A Pokémon card drawn by a second-grader just sold for a record-breaking $25,000
Spikey-Eared Pichu becomes the most expensive Pichu card of all time.
A Pokémon card illustrated by a second-grader sold for over $25,000 this past weekend, setting a new record for a card featuring Pikachu pre-evolution Pichu.
The Spikey-Eared Pichu card was originally created for a contest held in a dozen children's magazines across Japan by publishing company Shogakukan in 2009. The competition invited children from kindergarten age (typically between three and five) up to 12th grade (those in their late teens) to draw and submit artwork for either Spikey-Eared Pichu or Arceus, as part of a promotion around Pokémon movie release Arceus and the Jewel of Life.
One winner from each age group was selected, with the winning design turned into a real Pokémon card. The Spikey-Eared Pichu sold on June 11th via auction house PWCC was the winner of the second-grade bracket, with the artist likely aged around seven to eight.
While the number of cards produced for each winner of the contest is unknown, PWCC estimates that between 13 to 100 copies of each winning design exist - making them among the rarest Pokémon cards ever made. Card condition specialist PSA has graded 60 of the limited-edition cards from the competition to date. In the case of the second-grade Spikey-Eared Pichu, three copies have been graded - with this copy being the only card in perfect Gem Mint 10 condition.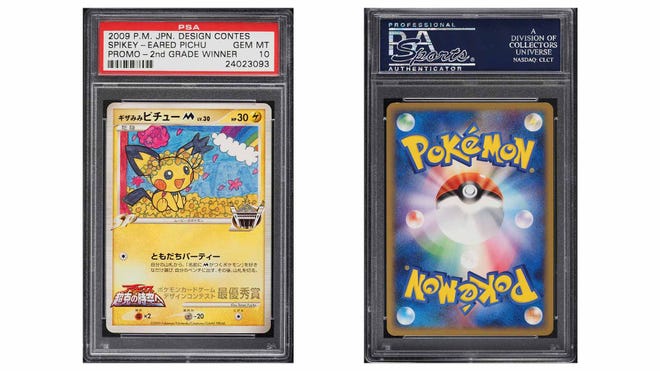 The final $25,800 price tag for the second-grade winner Spikey-Eared Pichu reportedly makes it the most valuable Pokémon card featuring Pichu ever sold.
Pichu evolution Pikachu itself appears on the most expensive Pokémon card of all time, Pikachu Illustrator, which was similarly created as part of an illustration contest held in Japan. Just 41 copies of Pikachu Illustrator are known to exist, with copies selling at auction for up to $900,000 and YouTuber Logan Paul purchasing the only verified Gem Mint 10 copy for $5.275 million in a private sale during 2021.