Pokémon Master's Key prize card, one of 36 ever made, triples its sales record at auction
Just three dozen copies of the card were given to finalists in 2010 Japan World Championship tournament.
A rare Pokémon card awarded to Japanese finalists in the game's 2010 World Championship has smashed its sales record at auction by selling for triple its previous price.
The Master Key card was given to the top players in the 2010 Japan World Championship representative tournament - the equivalent of the country's National Championship - held that summer in the Japanese capital's Tokyo Dome.
The event marked the culmination of multiple World Championship Series qualifying stages held across all 47 of Japan's prefectures from the winter of 2009 until June 2010, with thousands of Pokémon players - initially selected via a raffle system - competing across the TCG's age-based Junior, Senior and Master divisions. The top-ranked player from each league was subsequently granted entry to the Japan World Championship, joined by the winners of Last Chance Qualifier contests.
Just 36 copies of the holographic Master's Key prize card were ultimately handed out to the finalists in both the trading card game's finals and the video game competitions held at the event - eight in the TCG's Junior category, six TCG Senior and Master trainers, and 16 split evenly across the video games' Junior and Senior divisions. This marked a change from the 2009 World Championships, where only TCG finalists were given a prize card.
While the prize cards given to the TCG and video game finalists are identical, their protective trophy cases differ: the TCG cards are encased in a red case, while the video game cards are in a blue box. Each case has the respective logo for the Pokémon TCG or the then-latest HeartGold and SoulSilver video games.
When used in-game, the Master's Key card text (as translated from Japanese) allows the player to draw a card, before flipping a coin. On a head, they shuffle the Master's Key card back into their deck.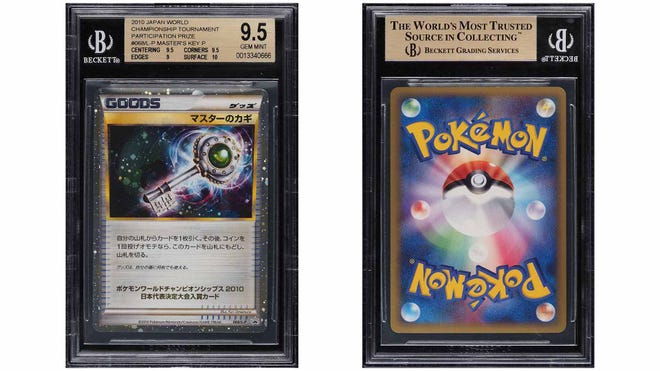 The Master's Key card sold on May 4th via auction house PWCC ultimately fetched $66,000 - over triple the record $21,201 paid for a copy in 2019. The record-breaking card was graded at a near-perfect Gem Mint 9.5 condition (out of a maximum 10) by specialist Beckett Grading Services.
According to PWCC, the rarity of the 2010 Master's Key makes it "one of the rarest modern Pokémon cards in existence".
"The Master's Key prize card is one of the most highly coveted issues across all of Pokémon," added PWCC's TCG manager Peter Petipas. "Not only was it extremely difficult to earn, but it's an incredibly scarce card with only 36 known copies in the world. The likelihood of collectors parting with a card of this calibre is next to impossible, so it comes as no surprise to see it setting a new record."