Pokémon card scalpers sour McDonald's Happy Meal promotion
Extortion with fries, please.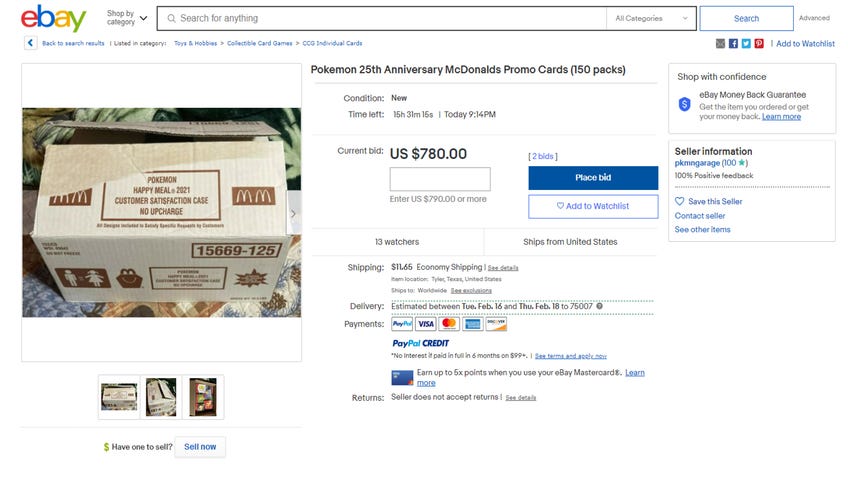 Scalpers are hard at work cornering a secondary market centred on McDonald's new promotion with the Pokémon Trading Card Game, and a change in how the fast food chain sells its toys isn't helping matters.
Yesterday, McDonald's franchises across the world started selling Happy Meals that included a 25th Anniversary Pokémon TCG booster pack as their toy. This pack differs from normal sets in that it includes four cards from a set of 25 depicting the starter Pokémon from each in-game region, plus Pikachu. Each pack of four also includes one foil card, along with sticker sheets, activity pages or a buildable card box - all packaged in cardboard envelopes embellished with illustrations of the cheeky yellow mouse.
As often happens with limited promotional cards, scalpers immediately moved in to resale these cards on aftermarket sites such as eBay, Craigslist and local Facebook marketplaces, often for exorbitant upcharges. A quick search shows foil singles going for anywhere between $5 and $70, while unopened boxes - each containing 150 promotional boosters and seemingly obtained directly from McDonald's distributors - begin around $700 and easily reach four-digit opening bids.
Collectors and fans are crying foul, pointing at this ongoing fleecing as another instance of scalpers clearing Pokémon TCG products from the shelves of big-box retailers and local game stores. Joe Merrick, owner and operator of popular Pokémon fan site Serebii, wrote a Twitter thread Wednesday morning relating past anecdotes of the fallout from widespread scalping and its continued effect on the hobby.
"Players, Collectors, fans, and the young audience are being driven out due to this insatiable desire for profit. I'm seeing so many just stop playing, stop collecting because they don't see the point as they can't get any," Merrick wrote. "Please, don't buy from scalpers and don't buy out all the stock. Think of other people, too."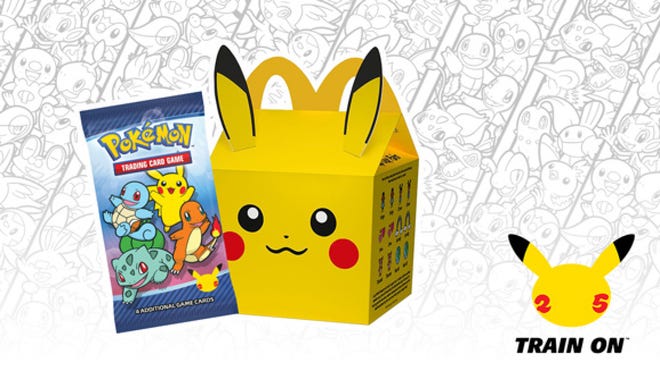 Complicating the issue are the seemingly inconsistent rules with which individual McDonald's locations dictate sales. Many locations are telling customers they must purchase a Happy Meal if they want a booster. A Happy Meal sells for around $3, but past toy promotions allowed customers to buy them separately at a reduced cost. Multiple people have reported - albeit anecdotally - purchasing booster packs by the dozens during the first day of the promotion, only to return the next and find the store enforcing the shared sale policy.
Enthusiast collectors and TCG players are saying this policy does more harm than good, as it will simply lead to scalpers wasting the food. With markups rocketing beyond a 300% return on the purchase of each kid's meal, many fear the tactic will fall short of its intended purpose.
Some diehard promotional hunters are breaking expectations, giving the extra food to unsheltered people in their area or handing them out free (packs included) while still inside the store.