Pokémon anniversary promo card starring Pikachu and Gen 1 starters sells for another record sum
Starter bid.
A rare Pokémon card marking the 20th anniversary of the beloved franchise and featuring its iconic first-generation starter Pokémon has sold for a record figure at auction.
The Japanese Pokémon XY-P Black Star Promo Pikachu was given to attendees of Pokémon's 20th Anniversary Festa held in Japan during October 2016. The events held in Toki Messe, Niigata and the Nagoya Trade & Industry Center celebrated 20 years since the Japanese launch of Pokémon Red, Green and Blue for the Game Boy in 1996.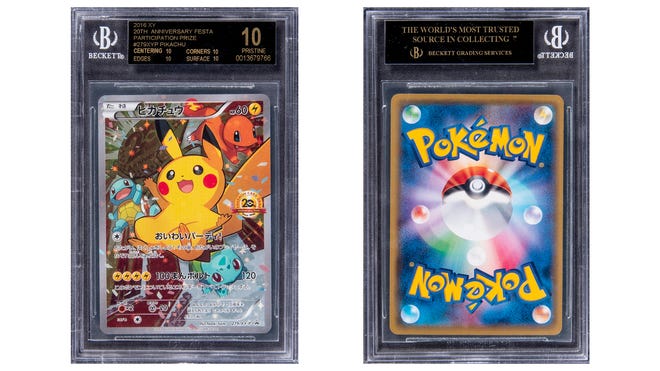 In keeping with the events' celebration of the original video games, the holographic full-art Pokémon card stars Pikachu alongside Gen 1 starters Charmander, Squirtle and Bulbasaur, along with the logo for the franchise's 20th anniversary.
The Japanese card's translated text reveals two attacks. Celebration allows every player to draw an extra card after clapping their hands. Mega Thunderbolt, meanwhile, causes 120 damage, before forcing the player to discard all attached energy cards.
The card's Pokédex text reads: "Thanks to everyone, we were able to celebrate our 20th anniversary!"
The XY-P Black Star Promo Pikachu sold via auction house Goldin on March 9th is claimed to be one of just four copies of the card rated at a 'Pristine' 10 condition - the highest possible rating - by grading specialist BGS. The company has graded 67 copies of the card in total.
Having opened with a starting bid of $500, the card's final sale price of $32,520 reportedly set a new all-time record for the card, according to Goldin.