Check out an exclusive reveal of Pokémon TCG: Scarlet & Violet – Paldea Evolved cards
Absolutely no Bramblin.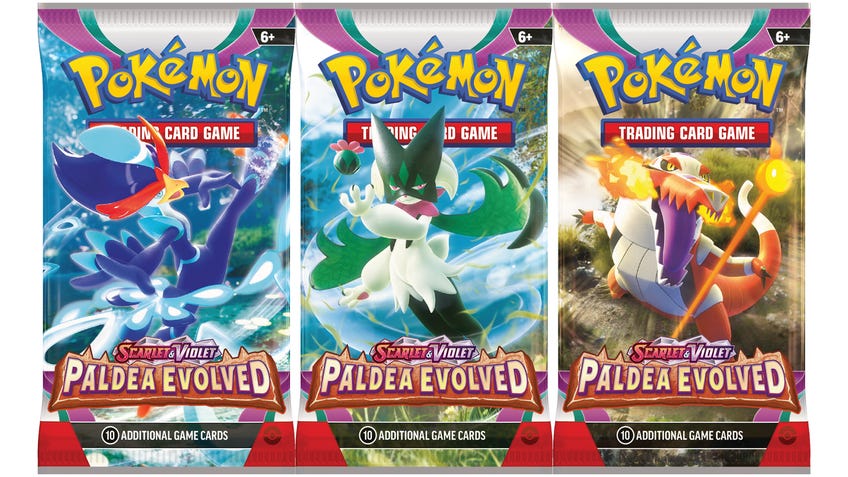 Get an exclusive look at some brand-new cards for the latest expansion for the Pokémon Trading Card Game.
Featured as part of the upcoming Scarlet & Violet: Paldea Evolved expansion, the new Pokémon TCG cards include Pokémon from the Paldea region that was introduced in last year's Pokémon Scarlet & Pokémon Violet video games. Dicebreaker has been given an exclusive look at a handful of cards found within the trading card game expansion, which will focus on Pladea Pokémon.
Kilowattrel is the stage 2 evolution of Paldean electricity bird-Pokémon Wattrel. By inflating its throat, Kilowattrel is able to amplify its electrical abilities and can fly over 430 miles a day. Kilowattrel has a total of 120 health points and can use its energy to peck for 20 damage and activate Jet Wing, which deals 150 damage but prevents the Pokémon from attacking again next turn.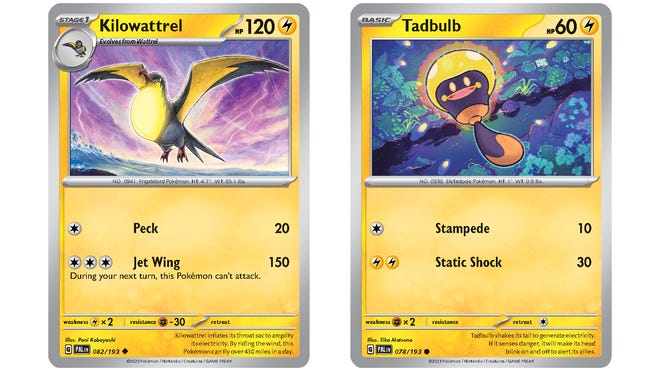 Another Paldea Evolved card exclusively revealed to Dicebreaker is Bramblin, who is a grass-type card in the upcoming expansion. A soul tangled in dried grass, Bramblin has 40 health points and can use the ability Ride the Wind, which enables players to flip a coin to switch it immediately with a benched Pokémon: thereby removing the retreat cost.
Bramblin's stage 2 evolution, Brambleghast, will also be included in the Paldea Evolved expansion. The new Pokémon card has 100 health points and can Absorb Life – which does 30 damage to an opponent and heals 30 damage from Brambleghast – as well as perform Dead Wood Detention, which does 80 damage to an opponent and increases the energy cost for that opponent's attacks by two energy slots.
The final Paldea Evolved exclusive card shared with Dicebreaker is for Tadbulb, an adorable little electricity Pokémon with 60 health points. A tadpole-like Pokémon that shakes its tail to generate energy, Tadbulb can deal out 10 damage with Stampede and 30 electricity damage with Static Shock.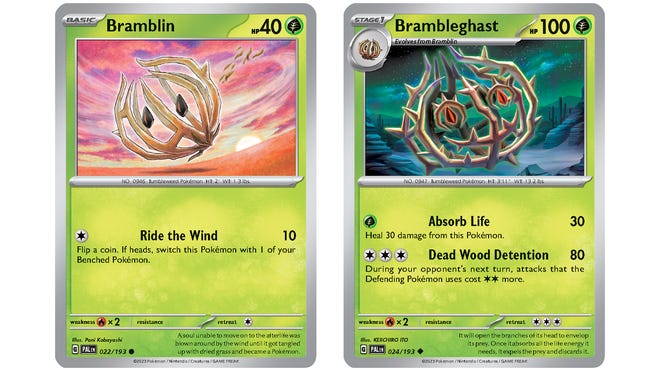 The Pokémon TCG: Scarlet & Violet – Paldea Evolved expansion will be released as part of the ongoing Scarlet & Violet series, which began with the launch of the core set last month. The upcoming expansion will contain a total of 190 new cards, including 15 new Pokémon ex cards. The new ex cards include versions of all three fully evolved starter Pokémon from the Scarlet & Violet video games, which provide powered up versions of Meowscarada, Skeledirge and Quaquaval.
Other notable inclusions in the new expansion will be new Tera ex Pokémon cards for classic Pokémon like Forretress, Slowking and Dedenne, thereby enabling them to be immune from damage whilst on the bench and gifting them new abilities and stats. Legendary Paldean Pokémon Chien-Pao and Ting-Lu will be featured as Pokémon ex cards in the new set, alongside new versions of Pikachu, of course!
Pokémon TCG: Scarlet & Violet – Paldea Evolved is set to be released on June 9th in the form of booster packs and an Elite Trainer box, which will come in a standard and Pokémon Center exclusive versions.