Pokémon TCG Halloween event features Trick or Trade BOOster bundles with exclusive cards
Get ready for Pokéween.
A new event for the Pokémon Trading Card Game includes Halloween-themed cards.
The Pokémon TCG is based on the popular video game series and sees two players competing against each other using their Pokémon card decks. Players can either acquire pre-built Pokémon card decks or can build their own decks using 60 cards. At the start of a match, players must place a Pokémon card into their active slot, as well as any other Pokémon cards from their hand onto their bench. Players will also need to draw six cards from their deck to form their prize deck.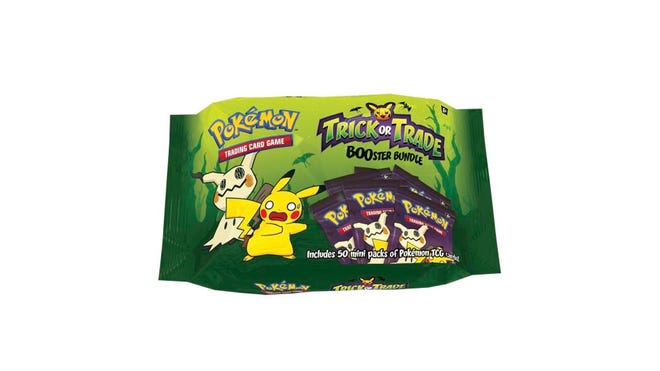 On a player's turn, they draw one card and can place a single energy card on any Pokémon card in their active slot or on their bench. Pokémon cards require energy to perform certain moves, with some moves dealing damage to enemy Pokémon. To win the trading card game, players must either reduce their enemy's active Pokémon card to zero health six times or do this when their opponent has no Pokémon cards on their bench to replace their fallen Pokémon. Whenever a player reduces an opponent's Pokémon to zero health, they can draw one of their prize cards into their hand.
If players have a later evolution for a Pokémon in their active slot or on their bench, they are able to place it on top of the Pokémon card – thereby unlocking a more powerful card. Players can also use item, ally, supporter, stadium and other cards in their hand to assist them in defeating their opponents' Pokémon.
The Dicebreaker team test how effective card cases on in protecting your Pokémon cards.
The Pokéween event is themed around Halloween and enables Pokémon TCG players to acquire limited edition Trick or Trade BOOster Bundles from certain retailers throughout the autumn season. Included within the BOOster Bundles are a collection of mini booster packs that contain three Pokémon TCG cards: all featuring a Pikachu jack o' lantern stamp. Included within the BOOster packs will be Pokémon such as the beloved Pikachu and the strange Mimikyu.
Players can get the Pokémon TCG: Trick or Trade BOOster Bundles from stores in the UK, US, Canada and Australia right now.