Pokémon Trading Card Game Classic is a seriously fancy premium set for the TCG that will 'last you a lifetime'
Teased ahead of reveal at World Championships.
The Pokémon Trading Card Game is getting a new premium set - and it looks very fancy indeed.
Called Pokémon Trading Card Game Classic, the luxury set appears to include premium tokens for tracking damage and conditions, card sleeves, a custom play surface and other accessories, as well as a selection of Pokémon cards featuring some of the series' most iconic monsters.
In a swish reveal during today's Pokémon Day stream, a brief teaser showed two players using sleeved cards including Charizard, Venusaur and Blastoise on a minimalist black-and-white playing surface. The surface appears to be much thicker than a typical playmat, with white markings for players' active and benched Pokémon, deck, discard pile, and prize cards.
The damage tokens were shown to be cones in yellow, orange and red for dominations of 10, 50 and 100, with separate ring markers in purple and a jagged red - presumably for conditions such as poison and burn, though this is yet to be confirmed.
A disclaimer shown at the end of the trailer curiously mentions that apart from basic energy cards, the cards included in the Pokémon Trading Card Game Classic set cannot be used in official tournaments - indicating gameplay or visual changes from standard tournament-legal cards. The disclaimer also states that the set's contents are still in development.
Pokémon Company president Tsunekazu Ishihara said that Pokémon Trading Card Game Classic is "designed to be a premium Pokémon TCG set that will last a lifetime". The luxury set is a collaboration between series co-creators The Pokémon Company and Creatures, and Japanese design firm Nendo.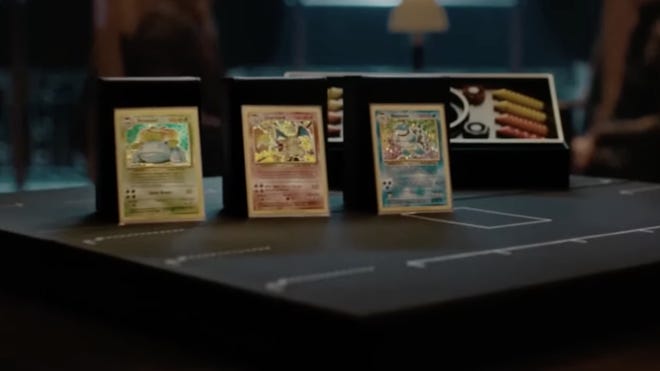 A further "sneak peek" at the Classic set is due to be revealed during this year's Pokémon World Championships. The world championships - which include both the TCG and video games - are due to be held in Yokohama from August 11th to 13th, the first time the event will be held in the series' native Japan.
A release date and price, as well as any word on how and where the Pokémon TCG Classic set will be available, are yet to be announced.