Pokémon's sold-out Van Gogh Pikachu card is coming back, god help us all
After "overwhelming demand" demolished stock of the promo at Amsterdam's Van Gogh Museum.
Pokémon's Van Gogh Pikachu card - the result of the pocket monsters series' crossover with the Amsterdam Van Gogh Museum - will be available once again, after inciting scenes of chaotic crowds, ridiculous online prices and an apology from The Pokémon Company in response to the fervent demand from fans (and scalpers) at the end of last month.
In case you somehow missed it the first time around, the Van Gogh Pikachu - or Pikachu with Grey Felt Hat, to give the card its official name - has been created as part of the Pokémon x Van Gogh exhibition running in celebration of the 50th anniversary of Amsterdam's Van Gogh Museum. As the name suggests, the card transforms the Pokémon mascot in the style of the painter's iconic 1887 self portrait.
The card is one of several Pokémon-inspired takes on the troubled artist's work being displayed in the exhibition, which also includes Sunflowers - now hiding a Sunflora - and Snorlax and Munchlax relaxing in The Bedroom.
The card was originally designed as a fun promo for (predominantly) young children attending the exhibit, serving as a free reward once visitors complete a Pokémon Adventure scavenger hunt around the museum.
Of course, nothing that pure can last, and within hours footage circulated of the museum flooded by adults cleaning out the limited-edition merchandise and promo cards. Naturally, those adults weren't just there to learn about art and pick up a playful card - copies of Pikachu with Grey Felt Hat soon popped up for sale on sites such as eBay for hundreds and even thousands of pounds.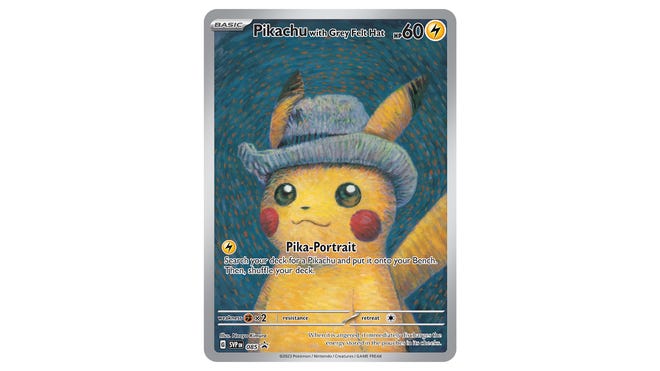 By September 29th, the day after the promotion launched, the card had sold out, leading The Pokémon Company to apologise in the wake of the "overwhelming demand" and promise that it would work to offer more copies of the card soon.
Two weeks later, The Pokémon Company has confirmed the return of Pikachu with Grey Felt Hat. The Van Gogh promo card will be offered "soon" via the company's online Pokémon Center store to anyone in the US or Canada who orders at least $30 worth of Pokémon TCG products.
The announcement notes that only one copy of the card will be included with each eligible order, and the cards will be available "while supplies last". Given the card's last appearance, you still might want to be quick off the mark to be in with a second shot.