Rare Pokémon card, one of seven in the world, sells for $90,000 at auction
Japanese No. 1 Trainer card given to winners of 1999 regional tournaments.
One of the rarest Pokémon cards ever made has been sold at auction for $90,000 USD.
The Japanese No. 1 Trainer hologram card was originally given to competitors in the 1999 Secret Super Battle tournament finals held in Tokyo. As the name suggests, the competition was held in a secret location, with players needing to win one of seven regional tournaments to be granted a place in the finals - the No. 1 Trainer card served as their entry ticket.
According to Heritage Auctions, which held the recent sale, the card's text translates as: "The Pokémon Card Game Official Tournament's champion is recognised here, and this honour is praised. By presenting this card, you may gain preferential entry into the Secret Super Battle." Its artwork, featuring a silhouette of Mewtwo and a logo for the game's Japanese name "Pocket Monsters Trading Card Game", is by Hideki Kazama.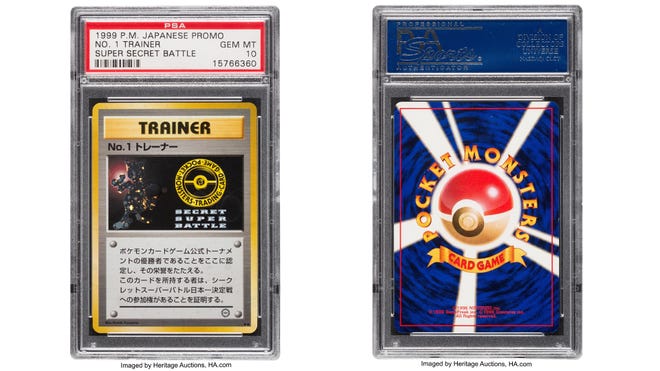 With only seven regional tournaments held, it's believed that only seven copies of the No. 1 Trainer card exist. Heritage Auctions described the card as a "Holy Grail" of the Pokémon TCG and the game's "most sought-after card". Six of the cards have been certified as being in perfect "Gem Mint 10" condition, including the copy sold in this latest auction. The card was sold for a final sum of $90,000.
While the No. 1 Trainer is among the rarest Pokémon cards in the world, it's not the most valuable Pokémon card. That title goes to Pikachu Illustrator, a holographic trainer card featuring artwork by original Pikachu artist Atsuko Nishida. The promo card was given to 39 winners of a 1998 promo contest, with only 19 remaining copies of Pikachu Illustrator reportedly certified.
Guinness World Records names Pikachu Illustrator as the most expensive Pokémon card sold at auction, following the sale of a mint condition copy last October for a record-breaking $195,000.