Rat Queens: The Board Game brings the comic's dysfunctional adventurers to the tabletop
Rats to the slaughter.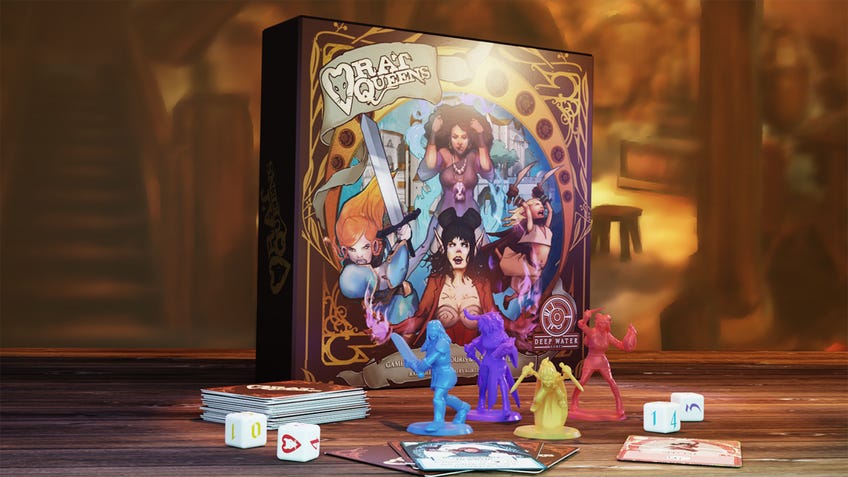 Fantasy comic Rat Queens will be receiving a board game adaptation courtesy of Deep Water Games, which will launch a Kickstarter campaign this summer.
The adventuring quartet of sometimes professional but often irreverent women have been the protagonists of an ongoing, NYT best-selling comic series since 2013. Composed of necromancer Hannah Vizari, dwarven fighter Violet Blackforge, ex-cultist and currently apathetic priest Delilah, and Smidgen thief Betty, the ostensible classic fantasy inspirations in their design and personality were mixed by creator Kurtis J. Wiebe with a healthy dose of cynicism and a contemporary counter-culture streak.
Rat Queens: The Board Game will play as a cooperative deckbuilder for one to four players who take up the mantle of one of the Queens as they face off against different bosses, be they men or monsters (or both). Each Queen boasts unique powers that they bring to any encounter, but their prickly attitudes can make teamwork painful - details aren't clear but the game's website says players will "manage your relationships with the queens and suffer the consequences of chaotic actions".
Designers Erica Hayes-Bouyouris and Sen-Foong Lim have been attached as leads on the adaptation, with titles such as 2019's seasonal area-control game Bosk and dexterity party game Junk Art in their combined repertoire. Deep Water Games' founder Nolan Nasser expressed his excitement in the official announcement.
"Getting to pitch Kurtis this game, him trusting us with the Queens, and working with Sen and Erica to bring the game to life has been an absolute privilege. We've poured a lot of love into this game and couldn't be more excited to be making the Rat Queens Board Game," he said.
Deep Water has previously published two entries in the Welcome To... roll-and-write series - Las Vegas and Your Perfect Home - along with the engine-building title Fantastic Factories. Rat Queens: The Board Game will launch on Kickstarter this summer, with more details about gameplay and shipping to come.