Battle royale board game Reload sounds like a tabletop Fortnite
Parachuting onto Kickstarter next January.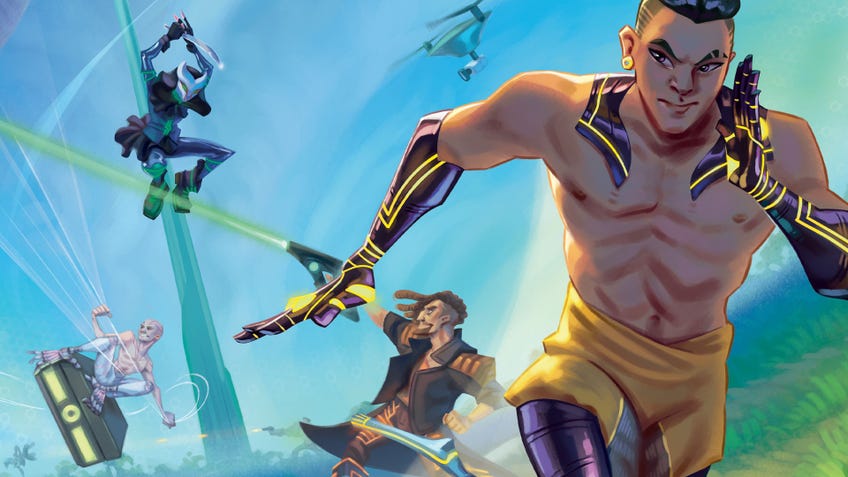 An upcoming board game that sounds like a tabletop version of immensely popular video game Fortnite is launching on Kickstarter early next year.
Reload is the latest board game from publisher Kolossal Games, the studio behind open-world Wild West sandbox Western Legends and card game brawler Combo Fighter.
Said to be inspired by books-turned-movies Battle Royale and The Hunger Games - both of which see a group of contestants dropped onto an island and forced to fight to be the last person left alive - Reload's premise involves "remotely operated battle androids" resembling their human operators duelling for the entertainment of the masses on the titular TV show.
#KolossalGames next project will talk to fans of video games like #Fortnite: #Reload!
The new #boardgame by François Rouzé (author of #ROOM25) and Jean-Marc Tribet. Beautifully illustrated by @LogicFairy (#AlmanacTheDragonRoad).
Coming to #Kickstarter in January 2021! pic.twitter.com/ba9aFHvA9P

— Kolossal Games (@kolossalgames) November 17, 2020
The game takes place on the training island where the military-funded machines do battle, with the perhaps surprisingly small player count of two to four people competing to outperform their opponents.
While few in-depth details about Reload have been released so far, Kolossal announced that designers François Rouzé - who previously designed 2013's co-op game Room 25 - and Jean-Marc Tribet would be developing its gameplay said to be "akin to a first-person shooter".
In an announcement tweet, Kolossal compared the game to Fortnite, the third-person free-to-play battle royale video game that drops 100 players onto an ever-shrinking island in a competition to eliminate their rivals. The publisher said that the board game's "video game-style" artwork would be illustrated by Jacqui Davis, the artist responsible for the recently Kickstarted Almanac: The Dragon Road - which Meehan picked as one of the board game highlights at last month's Spiel.Digital convention.
Reload is set to launch on Kickstarter in January 2021, with full details of the crowdfunding campaign and a release date to be confirmed.
Reload isn't the first board game to take aim at the popularity of Fortnite. 2018 saw the release of Last One Standing, an eight-player looting-and-shooting battle royale board game that featured a shrinking board, the ability to play in duos - similar to Fortnite - and an art style highly reminiscent of the hit video game. A second edition was released last year.