Renature is a board game about reversing climate change from the makers of Tikal
Flora good cause.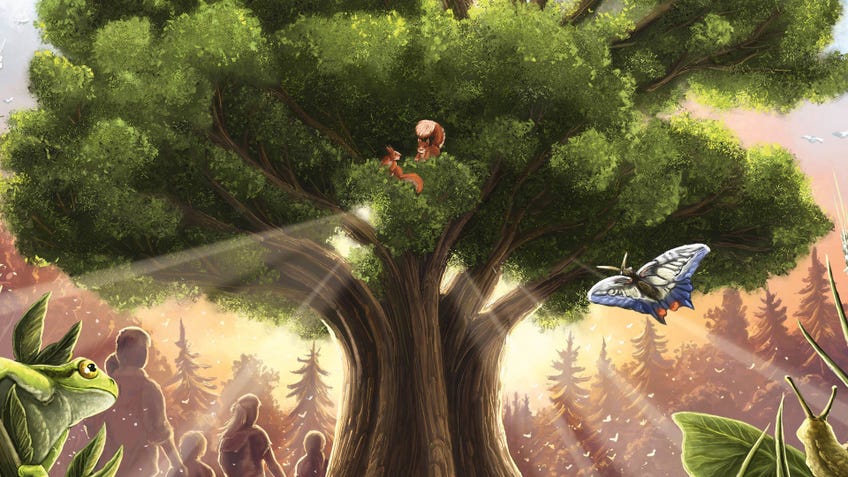 Bring life back to a desolate land in Renature, an upcoming board game from Tikal creators Wolfgang Kramer and Michael Kiesling.
Set around a valley that has been polluted - presumably by the actions of humankind - Renature sees players attempting to regrow the flora and fauna that once populated this area. Restoring the natural beauty of the area will encourage wildlife to settle and graze there, thereby providing more opportunities for the plant life to pollinate and spread. Players will have to time their plantings carefully if they want their greenery to grow as far as possible.
A game for two to four players, Renature has players selecting and placing different kinds of dominos across the board, with the aim of matching as many sides as they can. Each piece will show a combination of different animals or plants. Wherever the player chooses to place a domino, it must share symbols with all of its neighbours. Any pieces placed and matched can then have a plant laid inside the same area.
Players then score points depending on how many plants, and the size of said plants, are there. Should the area ever be surrounded by dominos, the players can score points for plants once again - with a final chance to score points at the game's end.
As the game progresses, players will compete to corner off certain areas to maximise their point totals, ensuring that their opponents don't do the same to them. The winner of Renature is whoever scores the most points by the time the last domino tile is placed on the board.
As well as their collaborations, Kramer and Kiesling are known for their individual creations, with Kiesling having designed the beginner board game Azul - alongside its sequels, Azul: Stained Glass of Sintra and Summer Pavilion - and Kramer being the creator behind sports board game Top Race, recently rebooted as Downforce.
Together, the pair have collected the Spiel des Jahres - Germany's prestigious Game of the Year prize - twice for Tikal and Torres. Kramer has won the award a further five times for games including El Grande, while Kiesling received it alone in 2018 for Azul.
Renature was originally announced in January, after Kramer and Kiesling confirmed that they would be reuniting to work on the tile-laying game. Capstone Games - the studio behind Pipeline and the Iron Rail series of train games - is partnering with Deep Print Games, a new company founded by individuals from Eggertspiele and Plan B Games, to publish the game.
Renature is set to be released on October 28th as part of Capstone Games' Simply Complex series - which includes construction games The Climbers and The Estates - at a retail price of $50/£40.