It looks like a Resident Evil 1 board game is on the way
The Master of Unlocking stretch goals.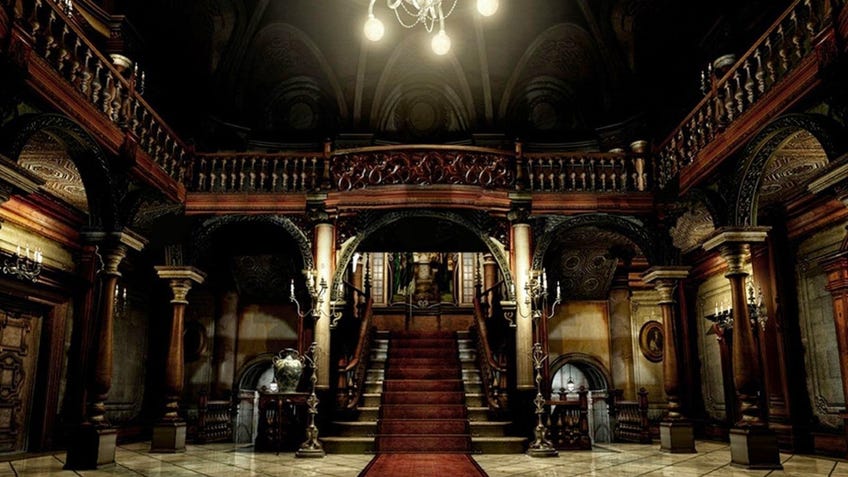 A board game adaptation of the original Resident Evil video game has been teased for a Kickstarter this autumn.
The upcoming board game based on the 1996 PlayStation classic was revealed by a flyer included with Resident Evil 3: The Board Game, posted to Twitter and Reddit by a number of Kickstarter backers who recently received their crowdfunded copies.
The flyer keeps things simple, featuring a shot of the iconic entrance hall of the Spencer Mansion - the secret-filled house that players explore as Jill Valentine or Chris Redfield as they investigate a deadly zombie outbreak and the mysterious Umbrella Corporation.
The reverse teases a Kickstarter launch date in autumn 2021, as well as giving a perhaps unsurprising title of Resident Evil: The Board Game.
June 24, 2021
The Resident Evil 1 board game will be published by Steamforged Games, which has previously produced tabletop adaptations of sequels Resident Evil 2 and Resident Evil 3: Nemesis. Both games drew inspiration from the original 1990s releases in Capcom's long-running survival-horror series, rather than their recent remakes. Resident Evil is yet to receive a full overhaul, but received a HD remaster of the original game in 2015 - the teaser image for the upcoming board game appears to be from the later REmake.
Steamforged's Resident Evil 2 and Resident Evil 3 board games adapted the video games' challenging combination of puzzle-solving, zombie-shooting and careful item management into a co-operative dungeon-crawling experience. Each game featured a campaign mode loosely based on the story of the PlayStation games, as well as a prerequisite haul of plastic miniatures included in their boxes.
As well as the Resident Evil series, Steamforged has seen Kickstarter success adapting video games including Dark Souls, Horizon Zero Dawn, Monster Hunter World and Devil May Cry for the tabletop, alongside original games such as Guild Ball, Bardsung and Godtear.
Steamforged is yet to release any details on how Resident Evil: The Board Game will play, what to expect in its box or how much it might cost. Dicebreaker has contacted the publisher to request more details and will update this story as necessary. Expect to hear more before the Kickstarter launches later this year.