Root digital is coming to mobile and PC later this year
Wood you believe it?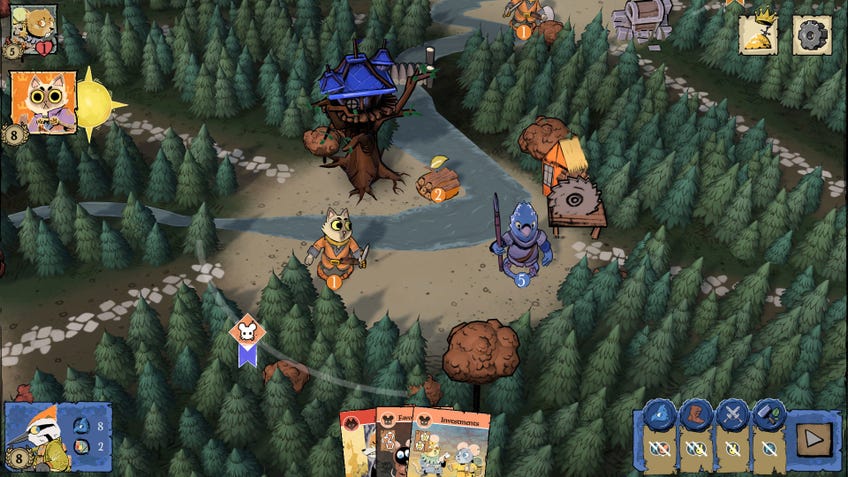 Engage in all-out woodland warfare on mobile and PC with a digital version of acclaimed board game Root, set to release later this year.
An asymmetrical game - meaning that its two to four players have different objectives and gameplay styles - Root sees players choosing from four different warring factions in a battle over the fate of a forest full of animals. The available factions include the Marquise de Cat - an ambitious cabal of industrialists - the bird conglomerate of the Eyrie Dynasties, the freedom fighters from the Woodland Alliance and the Vagabonds, who consider themselves a neutral party.
Each side has its own way of scoring the victory points needed to establish rule over the woods. For example, the Marquise de Cat faction can gain victory points for building war machines and other structures, whereas the Woodland Alliance collects points by gathering sympathetic groups of rebels across the forest.
Alongside different methods of scoring points, Root's factions provide a variety of gameplay styles. Players can take control of an unstable collective of lords in the Eyrie Dynasty, building a growing list of actions as part of their decree that must be followed, else they find themselves thrown into turmoil and forced to elect another leader. Alternatively, players can choose the opportunistic path of the adventuring Vagabond faction, who can pass through otherwise inaccessible parts of the forest to collect equipment and complete secret quests.
Originally announced in 2019, Root's digital app has now been confirmed for release on PC, iOS and Android later this year by the board game's publisher Leder Games, via a Facebook post. An exact release date is yet to be confirmed.
The digital version of Root looks to be a direct translation of the tabletop original, with the four factions from the base game included alongside a 3D graphical rendering of the woodland map and models of the various tokens. The app features a single-player mode, as well as local and online multiplayer options so that players can compete against each other. There will also be support for cross-platform play, allowing mobile players to challenge PC players.
Cole Wehrle is the designer responsible for Root, as well as Pax Pamir - the second edition of which was Matt's favourite game of 2019 - and next year's anticipated Oath: Chronicles of Empire and Exile. As well as Root, Leder has published the Vast series and upcoming board game Fort, due to release later this summer.
Root is also being adapted into a tabletop roleplaying game following a successful Kickstarter campaign last year. Due for release by Masks and Zombie World studio Magpie Games in 2020, the Root RPG sees players becoming Vagabonds caught between the different sides of the conflict depicted in the board game.
The digital version of Root is being developed by Dire Wolf Digital, the studio behind digital versions of board games including deckbuilder Clank!, Raiders of the North Sea, Yellow & Yangtze and Sagrada.