Party board game favourite Spyfall is getting a spiritual sequel, Spycon
Time to pull off the next con.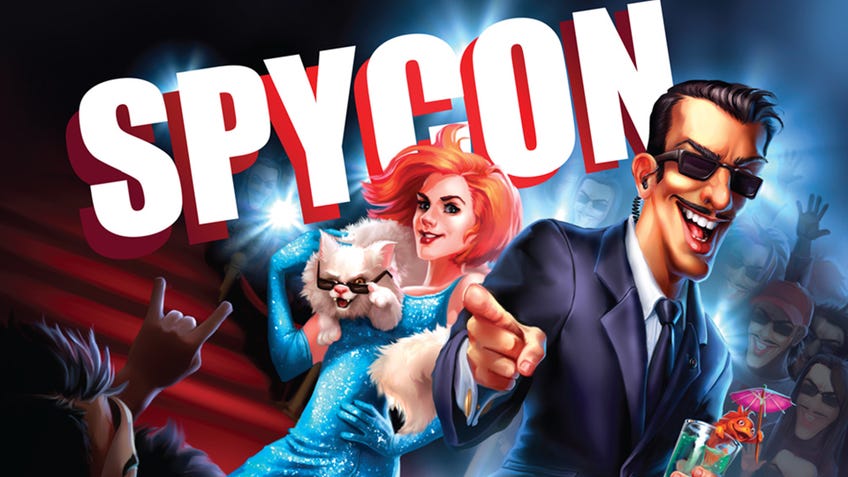 Hoodwink your enemies and send secret signals to your friends in the newest social deduction board game from the makers of Spyfall.
Like Spyfall - one of the best quick board games around, in our opinion - Spycon is a party game for big groups that has players attending the world's largest espionage convention on the hunt for confidential information that's being held by one particular stealth aficionado. Whilst one team is working with the chosen spy the other will be looking to intercept the contact, so players will need to be careful to communicate their identity to the right people.
In Spycon players split into two teams and each take turns to assume the role of the spy, whose job is to have their team successfully guess their character's identity whilst avoiding the notice of the opposing team. To do this the spy will need to give subtle clues by selecting certain terms that they think only their team will understand the true meaning of, using the shared knowledge of a keyword that's somewhat related to their particular character.
Once the spy has their character and their team has the keyword the spy then begins talking about their persona, making sure to be vague enough that the enemy team doesn't guess too much whilst trying to refer to the shared keyword. During the spy's description the players may ask questions about their identity, which the spy can choose to answer or ignore depending on whether they think it'll give too much away.
Players can attempt to guess the spy's character at any point. However, both teams only have three guesses to use so they'll have to be fairly confident. The intercepting team - not the spy's team, in other words - always guesses first, with 30 seconds to discuss and decide on their choice. If they happen to get it wrong the spy's team then has a chance to make a guess. Should both teams guess incorrectly then the spy continues their description and the floor is open to anyone.
Points are determined by the number of attempts it took for a team to correctly guess the spy's identity, with the fewer attempts needed equally a higher score. In Spycon scores are tracked via the red carpet, with the ultimate winner being the team who reach the victory card at the end of the line first.
Spycon is scheduled to release at next year's Gen Con, which will be taking place from July 30th to August 2nd. There is no confirmed worldwide retail release just yet.