Exploding Kittens makers' next game is Tacocat Spelled Backwards, out this month
Welcome to the palindrome.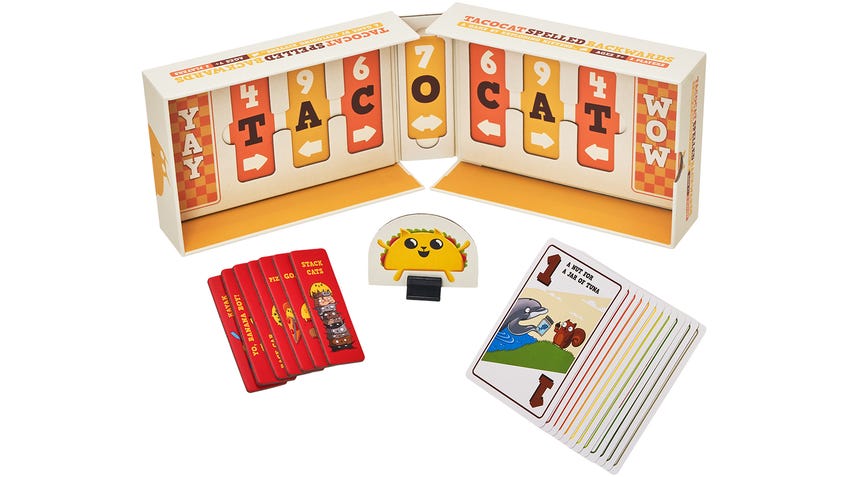 Send out palindrome troops to win the favour of a crispy salty friend in Tacocat Spelled Backwards, the next release from the studio behind Exploding Kittens.
Tacocat Spelled Backwards is a two-player board game that challenges its combatants to engage in a card-driven tug-of-war in order to impress the titular tacocat. The game box itself opens out to form the board, with players removing the components inside to set up their playthrough.
During the game, each player draws a hand of cards from a deck filled with odd creatures and allies all themed around different palindromes - which are words or phrases that read the same spelled backwards as they do forwards. Whether it's a couple of seline felines or a ufo tofu, players will need to simultaneously select which of their wordplay troops to send out.
Each turn consists of a duel between the two players, with the aim being to play a card of the same or higher value than your opponent. Once a player has reached the final card of their hand, they'll need to play a lower-value card in order to move the tacocat standee closer to their side. As the game progresses, the tacocat will eventually be moved all the way to the winning player's side - signalling that the tacocat has made their choice and the end of the game has arrived.
Exploding Kittens - besides creating Tacocat Spelled Backwards and the eponymous card game - is known for releasing several party games including You've Got Crabs, which has players splitting into two teams and attempting to collect matching cards, and dexterity-slash-dodging card game Throw Throw Burrito.
Last October, Exploding Kittens revealed that it would be publishing a portable party game called A Game of Cat and Mouth - which sees two players attempting to fling balls into their opponent's side of the box. A dexterity game involving magnetic paw 'catapults' and a standee of a cat's mouth splitting the two sides of the board, A Game of Cat and Mouth was released as soon as it was announced.
Tacocat Spelled Backwards is set to be released at the end of this month at a retail price of £12 ($16). Buyers can choose to pay extra when purchasing their copy of Tacocat Spelled Backwards in order to donate money to the Best Friends Animal Society - a US-based animal welfare charity - with Exploding Kittens pledging to match all donations made up to $25,000.