Cozy RPG Teatime Adventures, which pairs roleplaying with recipes and hot drinks, is back with a 2E and Stardew Valley-inspired pets expansion
Return to the Verdant Isles.
Teatime Adventures, one of the most feel-good roleplaying games of recent years, is back with a pleasantly cozy second edition and a new collection of adventures and supplements.
Teatime Adventures debuted back in 2021 with a trio of adventures designed for use with D&D 5E. Despite being built on the framework of the ubiquitous RPG, the scenarios explicitly leaned away from the conventional bloodthirsty focus on combat and power fantasy in favour of a gentler experience centred on solving mysteries, exploring the world and dealing with emotional challenges rather than physical ones.
Reinforcing this more wholesome tone was Teatime Adventures' suggestion of real-life tea pairings, vegetarian recipes and plant care advice alongside its fantasy tales, which then fed back into players' quests and encounters with NPCs in the RPG.
In addition, Teatime Adventures' setting of the Verdant Isles was described by Snowbright Studio, the studio founded by President Obama's former games and education lead Grace Collins, as explicitly offering a "counterpoint to the many existing D&D products that are straight, cisgender and ableist centered". Most characters in the original book were LGBTQ+, with "many" neurodiverse and/or disabled NPCs.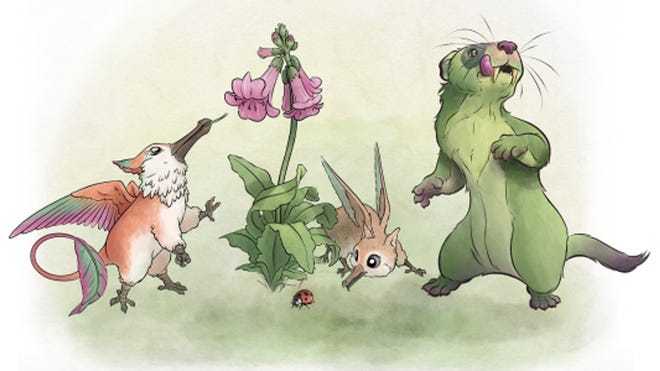 Teatime Adventures' Wonderful World of Tea Pets collection offers up a second edition of the game's core rulebook, covering both its basic rules and details on its world. New to the second edition is a solo scenario to introduce players to the RPG's world and gameplay, as well as a new d6 Harmony magic system and revised advancement rules.
That adventure can feed into Tales from Oakenbend, a new adventure anthology set in the titular town. The four included adventures span over two dozen locations and 35 characters, and can be tackled as a campaign or as standalone one-shots.
The Tea Pets supplement itself introduces expanded rules for pets in sessions, with over 20 different creatures - paired with pet-friendly recipes and bakes - and guidance on caring for them, rehabilitating wildlife and creating suitable habitats. The book also includes new spells and a focus on maps, said to be inspired in part by Avery Alder's The Quiet Year and other map-making RPGs. Snowbright says that the expansion's animal elements additionally draw from cozy farming games such as Stardew Valley and Harvest Moon, and can be played as a prequel to a Teatime Adventures campaign or inserted between sessions of the main RPG.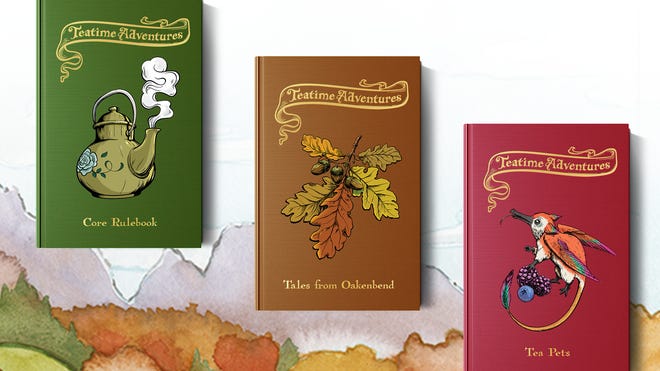 Last in the new line-up is the Player's Pack craft book, a book full of additional materials for players to use with both the base Teatime Adventures and Tea Pets. The craft book is designed to be cut up to create pet tags, bookmarks and even decorations.
Teatime Adventures' second edition core rulebook, Tales from Oakenbend campaign book, Tea Pets expansion and Player's Pack craft book are being offered via a campaign on Backerkit, with the books available separately or together in a box set limited to the crowdfunding run. The campaign will run until October 11th.