Teeth: Blood Cotillion is an RPG one shot about hunting occult horrors at a high-society ball
Belle of the battle.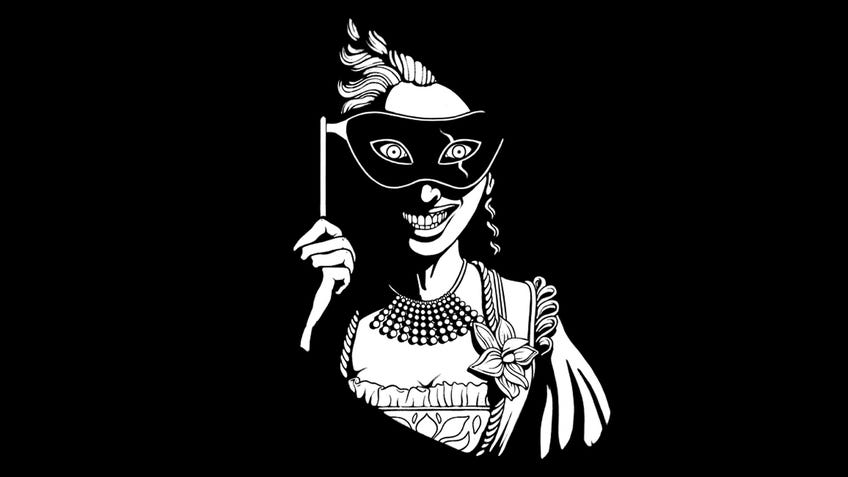 Cut down eldritch creatures whilst exchanging pleasantries in Teeth: Blood Cotillion, a horror roleplaying game one shot set at an 18th century ball.
A tabletop roleplaying game adventure for three to six players, Teeth: Blood Cotillion sees players becoming hidden assassins tasked with divesting a grand manor house of the terrible evils that plague it. Designed to be played in a single session run by a games master, Teeth: Blood Cotillion challenges the players to create characters who are as capable with small talk as they are with a blade. Throughout the RPG, the player characters must be able to pass off as partner-hunting socialites, until they can sneak away to destroy the house's hidden horrors.
Teeth: Blood Cotillion is based on a version of a system called Forged in the Dark - which is the foundation of the steampunk RPG Blades in the Dark - with the game taking roughly around three to five hours to complete an entire session of. The RPG book is 45 pages long, containing a selection of illustrations alongside two maps for the GM to use, as well as reference guides and playbooks for the players.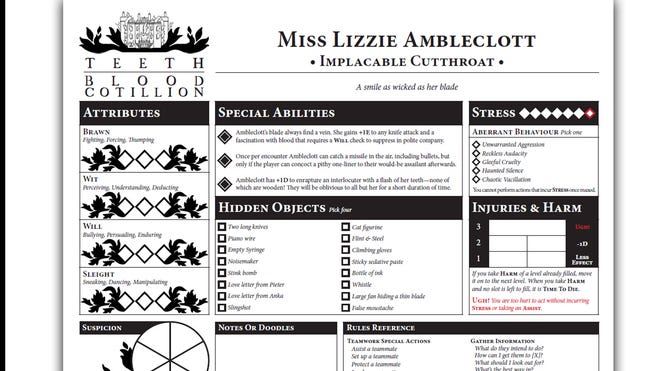 Teeth: Blood Cotillion is part of a larger roleplaying game setting called Teeth, which is set to be released in full sometime this year. Another one shot, entitled Teeth: Night of the Hogmen, was released for the RPG last month and saw players attempting to survive as villagers of an English town infested with vicious pig people.
Update:This article previously stated that Rossignol was primarily responsible for the design of Teeth: Blood Cotillion and Night of the Hogmen, with Davies contributing and illustrating. Dicebreaker has since been informed that Davies fully co-created the two scenarios, this has been corrected.
Blood Cotillion and Night of the Hogmen were both co-created by Jim Rossignol - a video game designer behind titles such as Sir, You are being Hunted and The Signal From Tölva - and Marsh Davies, who has previously worked for the Minecraft development studio Mojang. As well as co-designing, Davies also created the illustrations for the RPG scenarios.
Besides Teeth, Forged in the Dark - which was created by John Harper - has also been used as a basis for other titles such as the fantasy roleplaying game Band of Blades, the Star Wars inspired title Scum & Villainy and Girl by Moonlight, an RPG about becoming magical girls fighting against oppression.
The digital version of Teeth: Blood Cotillion is available to download on Itch.io for $7 (£5).