Travel the world and solve crimes in Tintin inspired RPG The Troubleshooters
International roleplayers of mystery.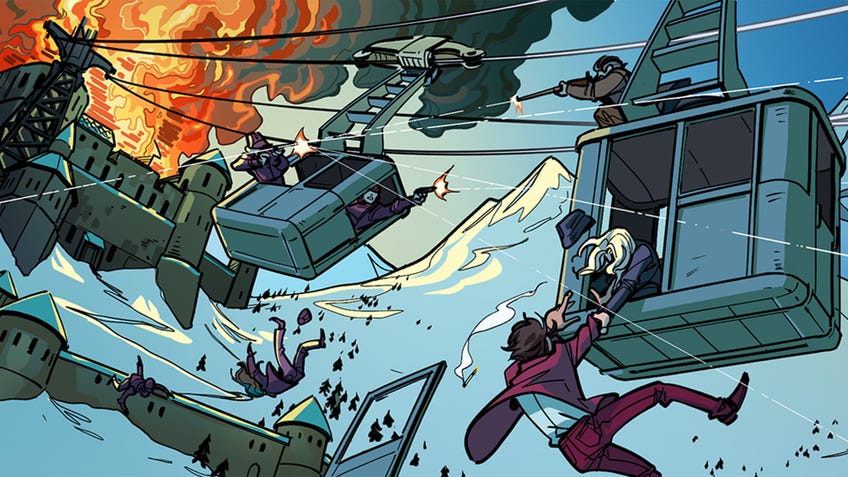 Uncover distant islands, unravel hidden secrets and umask villains in The Troubleshooters, a new RPG from the creators of Star Trek: Adventures.
Inspired by Franco-Belgain comics like Tintin, as well as iconic mysteries like the Nancy Drew book series and Where in the World is Carmen Sandiego, The Troubleshooters is an upcoming roleplaying game from Modiphius Entertainment.
Set in an alternate 1965, where world events like the moon landing and european tensions aren't quite the same, Troubleshooters sees characters stumbling across sinister plots and befriending people-in-need. This RPG will enable players to travel across the world on the hunt for answers to compelling questions, visiting a variety of locations - from lost temples, bustling metropoles and hidden valleys - and confronting numerous enemies.
Players could be facing a plot involving the mafia, government spies, fearsome beasts and even the RPG's titular villain: Graf Von Zadrith, the leader of a secret organisation called The Octopus.
The Troubleshooters Core Book - which has already been written and playtested - will also come with an adventure called The U-Boat Mystery, with various other adventure and background books planned to follow.
Krister Sundelin - author of Swedish roleplaying games Järn and Hjältarnas tid, and co-designer on one of the best tabletop roleplaying games out right now Kult: Divinity Lost 4th Edition - is the lead writer of The Troubleshooters.
Modiphius Entertainment, the company responsible for releasing Troubleshooters, has previously published other roleplaying games such as Conan: Adventures in an Age Undreamed of - and is also set to release an RPG adaptation of Frank Herbet's Dune in the near future.
The Kickstarter for The Troubleshooters begins on April 7th and is estimated to release sometime in Summer 2020, with a retail release set for Autumn 2020.