Ticket to Ride legacy board game features a western-themed campaign from Pandemic Legacy co-creators
The good, the bad and the business-minded.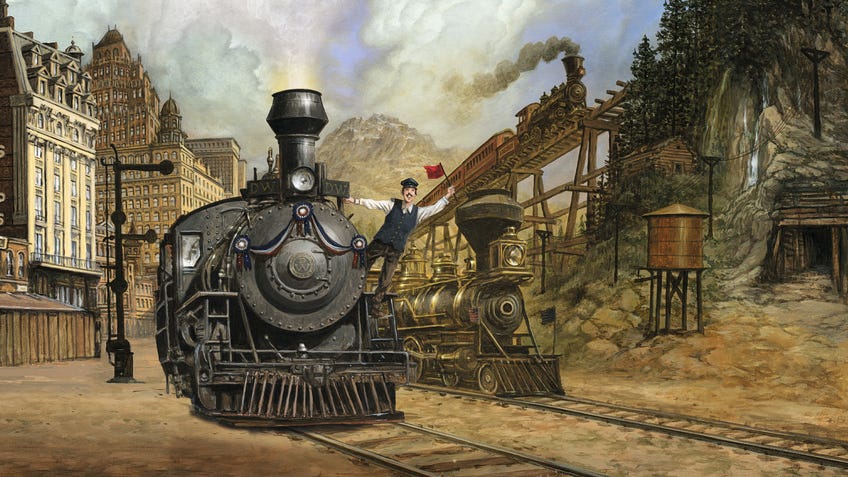 The first Ticket to Ride legacy board game will include a 12-part campaign set in the American wild west.
Initially teased last week, Ticket to Ride: Legends of the West is an upcoming board game that translates the core gameplay mechanics of the Ticket to Ride series into a legacy title. As a legacy game, Legends to the West will see the same group of players returning to the table to continue an ongoing story-campaign, with opportunities to permanently alter parts of the game and change the course of the narrative.
As 19th century North American pioneers, the players will be travelling from the east to west coast of the US, fulfilling tickets and unlocking new areas and rules to introduce into the legacy board game. Similarly to the original Ticket to Ride, players will be attempting to complete tickets by travelling along certain routes. Throughout their journeys, players will be presented with various challenges, as well as opportunities to collect a fortune within their personal vaults.
Lolies, Meehan and Matt play Ticket to Ride online.
During the game, the two to five players will be able to make their own choices which affect the campaign's story – that will take place over a total of 12 sessions, each one taking between 20 to 90 minutes long, depending upon the player–count. As players progress through the campaign, they will unlock new gameplay mechanics and story events, which will reportedly ensure that "each game is different." Once players finish the campaign for legends of the West, they'll be able to use the game's board with other entries in the Ticket to Ride series.
Ticket to Ride Legacy: Legends of the West will be co-designed by the original creator of Ticket to Ride, Alan R Moon, as well as the co-creators behind the Pandemic Legacy series – Rob Daviau and Matt Leacock. Days of Wonder is the studio responsible for releasing Legends of the West, with the studio being behind the publishing of every other entry in the family board game series.
Wheels recommends five great family board games to play.
The very first legacy board game released was Risk Legacy, which was also co-designed by Daviau. Risk Legacy set a precedent for the genre by featuring an ongoing campaign that would be affected by player decisions, alongside components that were designed to be permanently removed or altered. Most legacy board games can only be played through once, due to the fact that components are permanently removed or altered, alongside the inclusion of secrets and plot-twists that can be spoiled.
Ticket to Ride Legacy: Legends of the West is set to be featured at this year's GenCon event – which takes place between 3rd and 5th August – before being released on November 3rd for $120 (£95).