Prepare to soak up knowledge in Trivial Pursuit: Spongebob Squarepants edition
Time to Jellyfish for answers.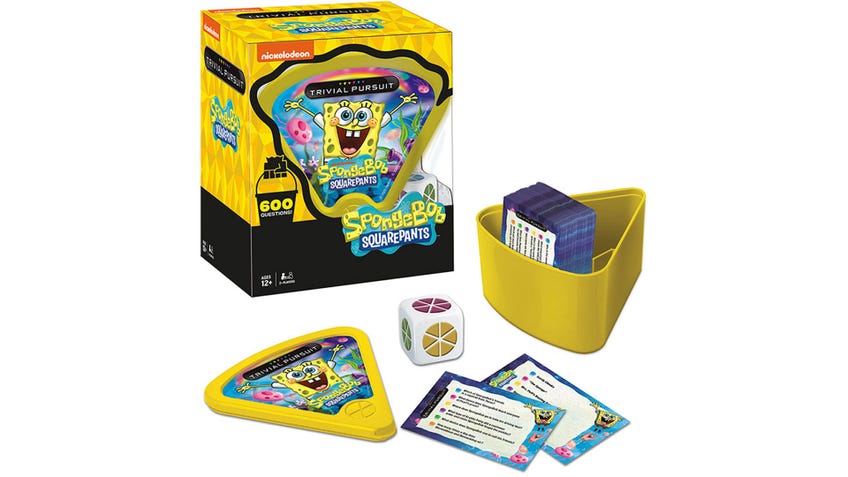 Discover the answer to the age-old question 'who lives in a pineapple under the sea?' in Trivial Pursuit: Spongebob Squarepants edition, a quiz game entirely dedicated to the yellow fry-cook.
Spongebob Squarepants is an animated television series that first aired on the Nickelodeon children's channel in 1999, and has since seen the release of 12 seasons and three feature-length films. The series follows the adventures of a fry-cook named Spongebob who works in a fast-food restaurant called The Krusty Krab, and is friends with a starfish named Patrick and a squirrel named Sandy. In 2016, the series was adapted into a Broadway musical and received 12 Tony award nominations in 2018.
Trivial Pursuit: Spongebob Squarepants is a board game where players take turns to attempt to correctly answer questions on the animated show, in order to collect different coloured wedges. Unlike the original, this version does not include a board for player pieces to navigate. Instead, the active player simply rolls a die to determine the colour of the question they need to answer on their turn.
Question categories for Trivial Pursuit: Spongebob Squarepants include topics such as songs, characters, locations and The Krusty Krab, as well as general questions on seasons 1 to 6 and 7 to 12. The trivia game features 100 question cards in total - with six questions written on each - stored in a tin case the shape of a piece of cheese. (Or is it a piece of pie?)
Trivial Pursuit: Spongebob Squarepants is being published by The Op, a company known for releasing several licensed games including co-op game Harry Potter: Hogwarts Battle, Codenames: Disney Family Edition and party game Telestrations.
A spin-off to Telestrations, called Telestrations: Upside Drawn, was recently released by The Op. The bizarre party game sees players working together to illustrate various concepts on a whiteboard - with one player needing to move the whiteboard itself, whilst the other manipulates the pen - so that other players can guess what they are. Whichever team successfully guesses the most secret concepts is named the winner.
Fans can get Trivial Pursuit: Spongebob Squarepants edition from local shops or The Op store right now, at a retail price of $20 (£15).