The next Unlock! escape room game has been announced
Prepare for some Mythic Adventures.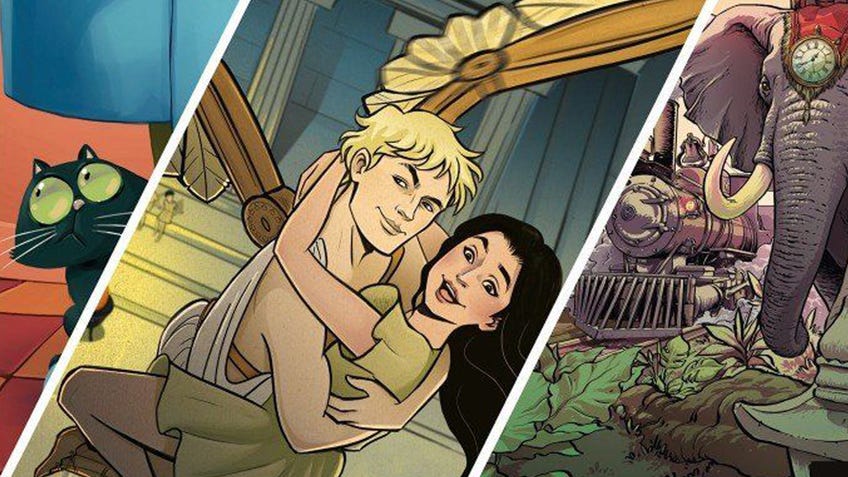 Solve mysteries in ancient Greece, foil the evil plans of Professor Noside and travel the world in 80 days with Unlock!: Mythic Adventures, the latest entry in the escape room series.
An upcoming board game for one to six players, Unlock!: Mythic Adventures sees players attempting to gather enough clues to determine the answers behind the mystery for each scenario. (Thanks BoardGameGeek.) Featuring a deck of 60 cards, Mythic Adventures has players working together to find the correct code within every one of the three settings featured in the game.
In Mythic Adventures, players will experience tales focused on the Jules Verne novel, Around the World in 80 Days, Greek mythology and a sequel to the Noside story featured in Unlock!: Secret Adventures - an escape room game that was released back in 2018 - that saw players trying to prevent the villain from covering the entire land in smoke.
Unlock!: Mythic Adventures, the newest trilogy of escape room-style games from @SpaceCowboys1 will debut in France on Nov. 20, 2020. No release date announced yet for the English edition of the game.

BGG game page: https://t.co/qRD6AZvC7N —WEM pic.twitter.com/1dn3CXHIeq

— BoardGameGeek (@BoardGameGeek) October 26, 2020
The Unlock! Series involves players using a companion app to search various crime scenes for clues, discover new items and solve a collection of puzzles centred around a particular mystery. These games are often timed - with each scenario in Mythic Adventures taking place over a single hour - and enable players to look for hints using the companion app, should they struggle to find and input the right code for every adventure.
Previous entries in the series include Unlock!: Escape Adventures - which saw players exploring a secret lab, a booby-trapped island and the lair of Professor Noside - cinematic themed Unlock!: Epic Adventures and Unlock!: Mystery Adventures, a game that invited players to a haunted house and other similarly spooky locales.
The most recent title in the series is the Unlock!: Star Wars Escape Game, which was released last August and has players travelling to the Star Destroyer, the Echo Base on Hoth and the desert planet of Jedha.
Mythic Adventures is being published by Space Cowboys, the company responsible for beginner game Splendor, the co-op game TIME Stories and Sherlock Holmes: Consulting Detective - The Thames Murders and Other Cases.
The French language version of Unlock!: Mythic Adventures will be released on November 20th, with a release date for the English language edition yet to be confirmed.