Warhammer: Age of Sigmar video game Realms of Ruin gives us our first look at Stormcast Eternals Liberators in Thunderstrike Armour
New armour created by Games Workshop's own Warhammer Design Studio - could models be on the way?
A new reveal for upcoming Warhammer video game Realms of Ruin might hint at an incoming redesign for Age of Sigmar's iconic Stormcast Eternals on the tabletop. Specifically, the Sigmarites' hammer-and-shield-wielding Liberators.
Realms of Ruin is a real-time strategy game based on Age of Sigmar - the first time that Warhammer's modern fantasy setting has been adapted into an RTS video game. Based on our time with it earlier this year, it's pretty good too - blending together faithful adaptation of the wargame with approachable RTS gameplay.
While the units shown for Realms of Ruin so far - the playable factions of which include Stormcast Eternals, the Orruk Kruleboyz and undead Nighthaunt, plus one more yet to be unveiled - stick closely to their tabletop appearances, developer Frontier has now dropped a surprise reveal of a brand new unit for the Stormcasts that is yet to be seen in plastic.
The game's latest trailer shows off Stormcast Eternal Liberators, but not quite as we've seen them on the tabletop to date. In place of their classic armour, which was introduced in Age of Sigmar's first edition back in 2015, Realms of Ruin's Liberators will have the option to swap into Thunderstrike Armor, the more recent armour style introduced to units such as Vindictors in 2021.
Thunderstrike Liberators are yet to appear as miniatures for Age of Sigmar, but their addition to Realms of Ruin might hint at a future update for the powerful melee units. According to Frontier, the new Liberator design was created by Games Workshop's own Warhammer Design Studio.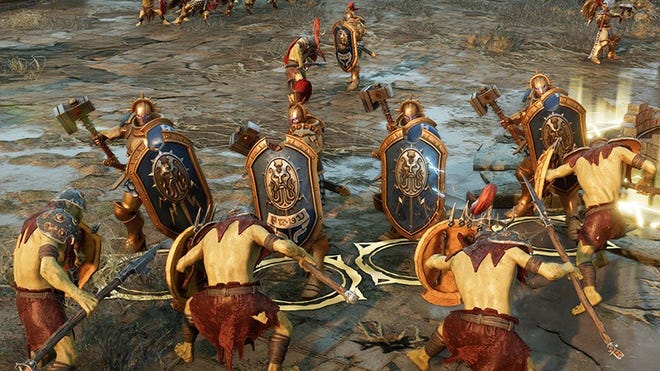 Alongside the new armour, the revised Liberators will also wield new hammers and shields, inspired by duardin god - and Thunderstrike armour maker - Grungi, as well as the Liberators' original look.
Realms of Ruin players will be able to swap between the classic and newer styles in the video game's Conquest mode and multiplayer, with the Thunderstrike Liberators included in the base game when it launches for PC, PlayStation and Xbox on November 17th.