Warhammer: Age of Sigmar reveals first real-time strategy game Realms of Ruin, headed to PS5, Xbox and PC
Includes single-player campaign co-written by Black Library veteran Gav Thorpe.
Warhammer: Age of Sigmar is getting its first real-time strategy video game, Realms of Ruin.
Realms of Ruin is effectively to Age of Sigmar what classic RTS series Dawn of War is to Warhammer 40,000: a video game in which the player controls various Warhammer units from a top-down perspective, commanding them around a battlefield in real time to capture arcane conduits and collect valuable resources.
The upcoming video game will include four factions from Age of Sigmar, with the Stormcast Eternals - the heavily-armoured warriors affectionately nicknamed Sigmarines for their similarity to 40k's poster stars - and Orruk Kruleboyz the first two playable armies to be revealed.
Realms of Ruin will be faithful to units' appearance on the tabletop, with miniatures from the wargame being directly recreated in the video game. Players will be able to upgrade their units along tech trees to gain new abilities.
As well as supporting one-on-one and two-versus-two multiplayer matches, in both ranked and casual modes with cross-platform support, Realms of Ruin will include a single-player campaign.
The campaign will take place in the swampy realm of Ghur and follow Stormcast Eternals and their leader Sigrun as they defend the fortress of Harkanibus from Kruleboyz. Lending his pen to the story is prolific Black Library writer Gav Thorpe, the author of Warhammer books including Age of Sigmar novel Warbeast, Warhammer Fantasy book The Blades of Chaos and a number of entries in Warhammer 40k's Horus Heresy series.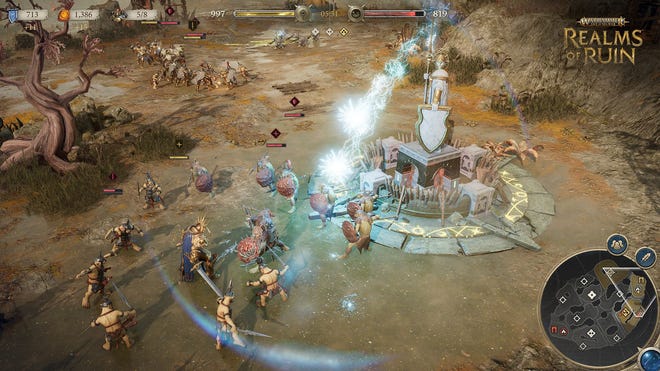 Age of Sigmar's RTS debut is being helmed by Elite Dangerous, Planet Zoo and Jurassic World Evolution studio Frontier Developments. Realms of Ruin will be released on PlayStation 5, Xbox Series X|S and PC, with its console versions utilising the new DirectStep system to apparently offer a fluid way of controlling multiple units in real time with a gamepad.
Ahead of Realms of Ruin's release, the video game will see an open beta, with registration available now.