What the What?! is an old-timey version of classic party game Snake Oil
Tinker, tailor, soldier, why?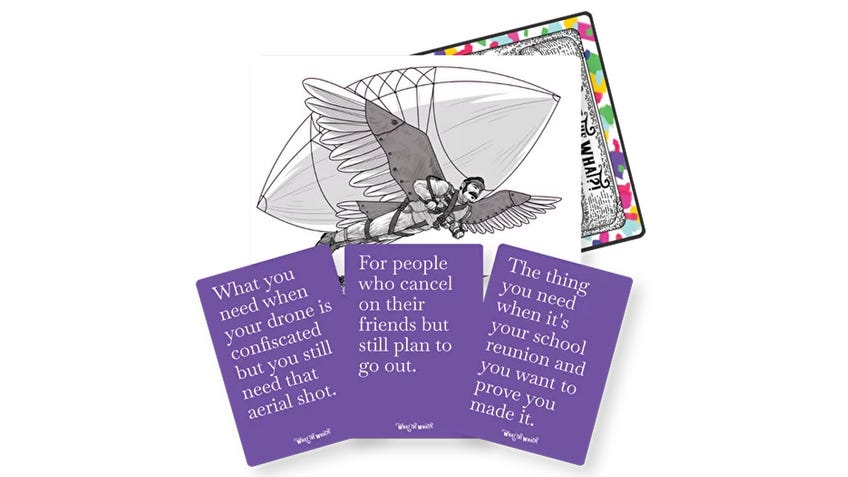 Design weird inventions based on over 500 years of entrepreneurship history in What the What?! a board game about pitching strange machines to potential investors.
What the What?! is a party game for three to ten people themed around the unconventional inventions of the past. Based on research from the Smithsonian and White House Historical Association, What the What?! sees players creating their own bizarre machines based on illustrations of designs that were actually devised. Players will either be selling their made-up invention to one of their fellow players, or playing it in conjunction with a prompt card in an effort to produce the most laughs.
In a similar fashion to the party game Snake Oil, What the What?! has players using their imagination to conjure up a tantalising pitch to sell one of the other players on their product. However, unlike Snake Oil, What the What?! challenges its players to create a pitch for the same card, rather than ones they've picked themselves. During the quick board game, players take it in turns to assume the role of investor or inventor. Whilst the investor will be selecting the invention illustration and the winner, the inventors will need to impress the investor.
Once the investor has chosen a card they show it to the inventors, who will have 30 seconds to come up with their own idea of what it could do for the investor. Whoever makes the most compelling argument wins the card. Alternatively, players can play using prompt cards - displaying an answer for what the invention could be used for - with the investor picking the funniest. After the winner has been chosen, they flip the card over to reveal the real purpose of the invention when it was first designed. Whoever has the most points by the end of the game is the ultimate winner.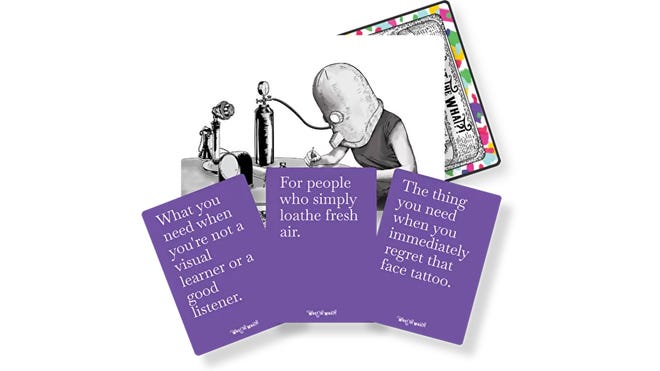 What the What?! was created by Stacy Katz, who was the co-designer on the 2015 board game for kids Not Parent Approved, which provides younger players with a safe way to experience a tabletop title in the same vein as Cards Against Humanity. Katz is the founder of the publisher behind What the What?! - Well Why Not Media.
The Kickstarter campaign for What the What?! is live until June 12th, with a pledge of $30 (£22) getting backers a copy of the core game in December.