Wonderland is a card game from Clank! and Fox in the Forest makers you can print-and-play for free
Don't be late.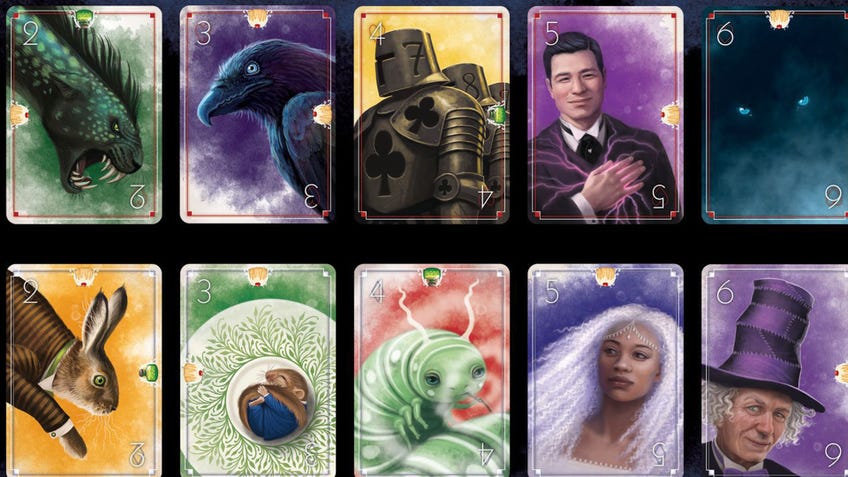 Venture down the rabbit hole and lose yourself in Wonderland, a card game from the makers of Clank! and The Fox in the Forest that's free to download now.
A two-player board game featuring iconography from Lewis Carrol's seminal novel, Wonderland sees players facing off against one another as either Alice or the Queen of Hearts. Each player gets their own unique deck of cards, with every card showing a number from one to seven. These numbers indicate how much power and influence each character has in Wonderland.
Cards are played in a four-by-four grid, with one of the sides controlled by Alice and the other by the Queen of Hearts. (The one space wherein these two sides overlap is not owned by either player.) All the other spaces in the grid are labelled as Wonderland and are considered neutral territory by both players. Wonderland begins with each player taking turns to place cards facedown along their side of the grid, before they start laying cards in the neutral spaces.
Once all spaces have been filled - besides the overlapping space and a remaining space in Wonderland - players then score their points. Points are calculated by taking whichever number is shown on the card and applying any magical item effects found on the edges of cards. For example, magic potion bottles cancel out any points acquired by the cards they connect with, whereas cakes double the points of the cards they border.
After the cards in Wonderland have been scored individually, players calculate the score of each row and column by flipping over the cards along the edge of the grid. Whichever card is placed on the edge of each row or column is the scoring value of that line, with the player holding the highest total in that row or column scoring that value.
Players then switch roles - Alice or Queen - before playing once again. Whoever holds the most points at the end of the second round is named the winner of Wonderland.
Wonderland is designed by David Solis, the creator of family board game Kodama: The Tree Spirits and Belle of the Ball, a beginner board game wherein players have to gain entry into an exclusive party.
The publisher behind Wonderland is Renegade Game Studios, the maker of legacy board game Clank! Legacy: Acquisitions Incorporated - part of the popular Clank! series of deckbuilding games - and two-player board game The Fox in the Forest.
Previously released as an exclusive game for International Tabletop Day, Wonderland can now be downloaded as a free print-and play board game from Renegade's website.