X-Men: Mutant Insurrection is like Elder Sign with Wolverine, Cyclops and Storm
Xavier the moment.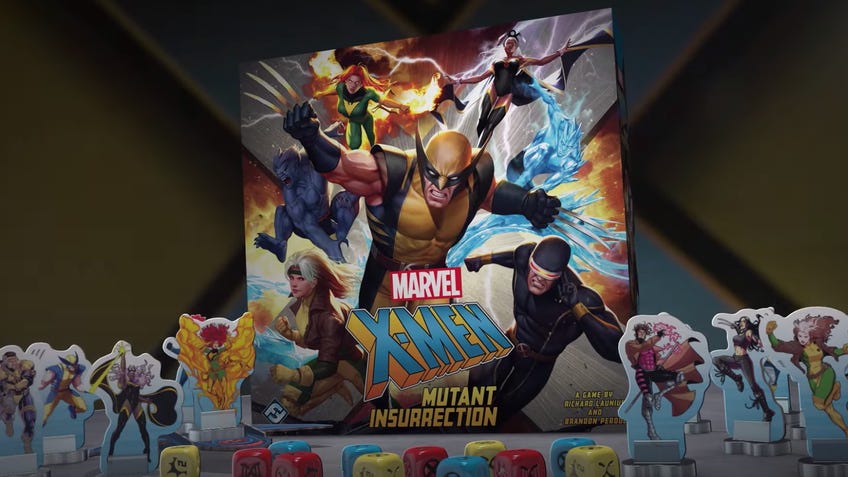 Form a team of superheroes and fly out in the Blackbird to save the world in X-Men: Mutant Insurrection, a co-op dice game based on the classic comic book series.
X-Men: Mutant Insurrection is a one to six-player game that sees players donning the mantle of various beloved characters from the Marvel comic-book universe in an attempt to thwart the schemes of various villains.
Featuring eight different plots inspired by arcs in the comics - including one focusing on infiltrating the Hellfire Club and another centering around Magneto and the Brotherhood of Mutants - this co-op game has players working together to complete a series of missions. Eventually, the team will have to face off against the mastermind behind the whole plot in a final showdown.
Playable mutants include fan-favourites Wolverine, Cyclops, Rogue, Storm, Gambit and several other lesser-known characters, such as Shadowcat and Magik. Each mutant will have their own special ability and set of coloured dice that players can roll in order to pass missions. In a similar vein to dice-rolling horror game Elder Sign, certain missions will require different dice results in order for the player attempting it to be successful.
As the players continue to complete missions and deal with each new threat, they will be able to recruit new mutant allies to help them along the way. As well as gaining new team-mates, players can also strengthen the bonds between their characters - giving them additional benefits. However, players will also have to tackle the complications that come with these characters' relationships, ensuring that they continue to form a strong team.
X-Men: Mutant Insurrection was announced during Fantasy Flight Games' online In-Flight Report stream. Last year the publisher released living card game Marvel Champions, similarly set in the comic-book universe.
Also teased during the event was Descent: Legends of the Dark, the next entry in the series of dungeon-crawling games which was leaked earlier this month, and the first expansion for the fourth edition of sci-fi strategy epic Twilight Imperium.
X-Men: Mutant Insurrection is set to be released in the first quarter of 2021 at a retail price of $55 (£42).