A weekend with Jessica Robinson: the expectations and pressures of the record-making British Yu-Gi-Oh! pro at this year's World Championships
The TCG's first female European champion and first woman to compete at Worlds recalls her journey to the top.
"I'm never really confident, but I'm never really not confident. I just take it one round at a time, and it is what it is after that."
It's the night before the Yu-Gi-Oh! World Championships, and I'm sat alongside a small gaggle of journalists in a Tokyo hotel with Jessica Robinson, the European Champion and the first woman ever to compete in the prestigious invite-only culmination of the TCG competitive calendar. On first glance for an outsider looking in, your first thought may be how the player stands out from the crowd of fellow competitors merely for her bright pink hair, a shining beacon amidst the sea of other competitors in the weekend's event. Get to know her further, however, and a story of inner strength and external expectations with a point to prove is the thing most worth noting about Robinson's efforts over this high-pressure weekend of competition.
Just 28 duelists from around the world were invited to compete at the two-day event, an intense spectacle between the best duelists from around the world in the hopes of crowning the TCG's first world champion in four years. While each came to the event with a story to tell, Robinson's was one catching the eye of many in the run-up to the event - especially mine as a fellow female duelist.
Qualifying for the event following her record triumph in the European Championships a few months prior with her Rikka Sunvalon deck - a rare occasion where the same deck won the competition in consecutive years, emulating fellow Brit Marcus Patel's victory in 2022 - it was a well-deserved victory defined by memorable dueling. The oh-so-satisfying top-deck of Harpie's Feather Duster in Robinson's Top 4 match on the way to European supremacy being one such memorable example.
We're getting ahead of ourselves. Every story has its own beginning and, for Jessica, this story begins in a wet and soggy British caravan park. "It was one summer, I think I was 11-ish, where I ended up playing random cards with some kid I met on a campsite or caravan site," she recalls. She remembers the experience fondly, but it took until a whole year later as a "bored 12-year-old" before she stepped up from this to something more competitive.
"My dad noticed all these cards and contacted someone at Konami to ask where locals were, and I ended up being taken to one of those. I used a random pile of junk cards really, a badly built version of the Noble Knights structure deck. I had no idea what the cards did, and I just went for it based on attack points."
When I was 12 or 13 I got my first regional top, in a small card shop with about 30 people. In 2016 I entered Nationals, then the year after that I got my first top cut at Nationals and it just kept growing.
The results weren't the best at first, as you may expect, but it was a start. This quick jump into competitive play meant Robinson never had a big phase of playing Yu-Gi-Oh! casually. She quickly made the jump from using random junk to mastering meta decks, finding even more regular local events closer to home, and learning quickly what worked and what didn't on the path to victory. She was a competitive person and, by learning and improving, she got results.
"When I was 12 or 13 I got my first regional top, in a small card shop with about 30 people. In 2016 I entered Nationals, then the year after that I got my first top cut at Nationals and it just kept growing. I always had an urge to keep improving."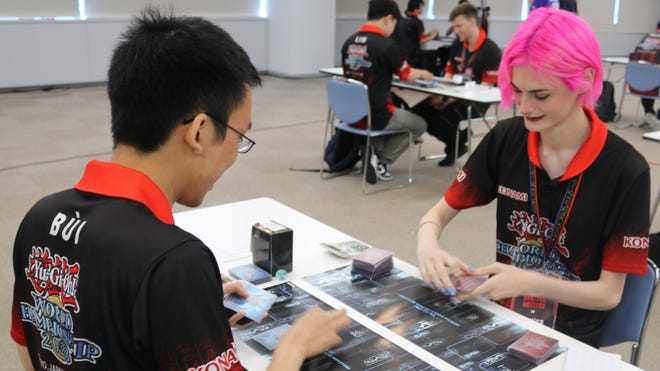 That urge brought her here, to the biggest stage of all. With the air of calm and confidence she embodied as we spoke, it was almost difficult to imagine this was the person shouldering the weight of the expectations of many onlooking duelists cheering her on by virtue of breaking the glass ceiling on the way in - never mind that this was her first-ever World Championships.
Discussing how she evolved her deck for the unpredictable and broad Worlds format, Robinson was both assured and methodical - "I'm focused on strengthening my own deck more than countering my opponents'." - while eloquently explaining the thought process behind many of her deck-building decisions going into the event.
I'm focused on strengthening my own deck more than countering my opponents'.
One anecdote that stood out from this pre-event conversation was the deep explanation given for her decision to include Traptrix Calaria in the Side Deck, all for the potential the card had to play off an opponent's Contact "C" if it ever became necessary. Including Extra Deck monsters in the Side Deck is an unusual choice and wouldn't cross the mind of many duelists, yet Robinson made the decision feel so obvious and considered you wouldn't even think twice.
"I maintained my confidence until about 8am," she admitted, the morning of the event bringing the excitement and pressure of the experience into focus for the first time. It's understandable, with the biggest day of dueling in your career to come. Suddenly the red-and-black named jerseys denoting TCG competitors feels less like a fun memorial of World Championship qualification and more like a uniform for the most stressful test you'll ever face in your Yu-Gi-Oh! career.
As matches got underway, from the perspective of the press our insight into what was going on became rather limited from this point onwards. Distractions are obviously kept to a minimum for competitors, barring us from the duelist room after the opening minutes of the first round. The event on day one was held behind closed doors, leaving even our own knowledge of proceedings up to the whims of any updates we could get from Konami alongside any additional results mentioned on the official livestream.
In the end, despite the Rika Sunvalon deck not being hit by the event banlist and earning numerous major competitive results in the lead-up to Worlds, only one other European player brought the deck to the tournament alongside Robinson: fellow European Gabriel Soussi. Notably, both players claimed the top two from the event's extended seven rounds of Swiss, Robinson ending with an x-2 record to claim second place after winning the mirror match in the final round.
Worlds is such a difficult format to predict.
It was a rather successful qualification, all being said, with the only defeats during Swiss being at the hands of North American players Steven Hamilton Santoli and Enzo Maximiliano Fiallos Velasco, who both happened to be two of only three players in the competition playing Mathmech.
"Worlds is such a difficult format to predict," Robinson noted. "I always knew Mathmech was a more difficult matchup for plants. Because [Mathmech Circular] is limited, it always depends on how well they draw, since hand trap decks are always a bit more difficult for Rikka Sunavalon and Mathmech can play 15-18 hand traps in their main deck. The deck in general is less consistent, but I can get slammed on a couple of interrupts, and if I don't have a really good hand or they have Circular drawn, I can get blown out."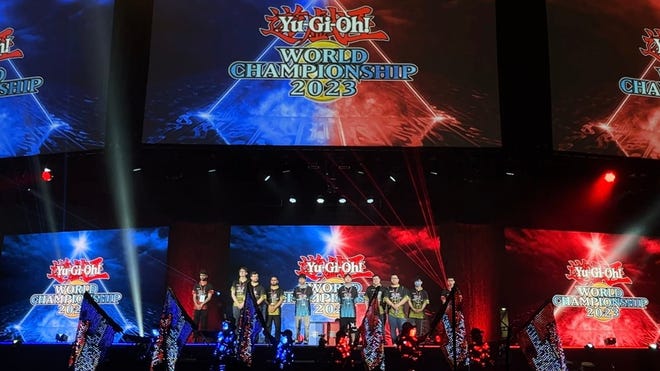 Yet the pre-event jitters had gone away and remained minimal even as the competition ramped up. Although Robinson was ultimately able to achieve a strong Top 8 finish after Swiss, the tournament came to an end for her soon after, falling in a narrow 2-1 defeat in a match-up against eventual World Champion Paulie Aronson's Dragon Link deck. Notably, this did make her the only player to take a game from Aronson during the top cut on his way to the title, and the match was even closer than even that result suggests.
"I won game one, but drew completely unplayable game two," Robinson explained, running through the match. "Unfortunately I drew four dead cards [in game three], and then for my one playable card, he had one hand trap to play against it so I couldn't hang on."
Games, matches and even championships are won on margins. Aronson admitted that in the first game of his grand final match he had to overcome his own mistake to secure a crucial victory in a difficult grind game against Juan Mateo Augusto Renteria Pastor. Who knows how the story would have ended had Robinson drawn a different hand or clutched the right top-deck draw at the right time.
Speaking after the dust had settled on the event and Robinson had returned home to the UK, the wish to have gone just that little further in the competition was apparent. To call it disappointment, however, would be unfair.
"I think it was a little bittersweet," she said rather frankly when assessing the experience with hindsight. "Obviously you're thinking about how if you'd won this match I could have done it, but it was also a really nice and surreal experience. The opening ceremony and all these things, you never think you'll experience them or you don't think about them because you're watching from the outside."
I don't think I had anything to prove, and topping was almost like an icing on the cake.
There were complicated feelings, but ultimately pride in her achievements: "I always have that little voice trying to push myself to go further, telling me, 'Okay, but next time you'll get Top 4.' That's my competitive streak, though. Realistically I don't think I needed to top, because even entering [the World Championships] is a really big deal. I don't think I had anything to prove, and topping was almost like an icing on the cake."
And, of course, there's next year. "I'm honoured to have been in the position of people rooting for me. Now that Worlds has passed and there's now a new season where I have to climb to get there again, it's nice to have the motivation to keep pushing, and I'm really happy about having that support from others too."
1st at European championships
Top 8 at World Championships

First girl to do it, card games are for everyone, end of discussion. pic.twitter.com/rrf06HhdQ7

— Jessica Robinson (@SunseedJess) August 6, 2023
Going into the event, a glance at Robinson's Twitter page showed support from so many players cheering her on just for bringing a new face and representation to the championships that hadn't been there before. A journalist must remain impartial, but it's hard to deny that there was at least a part of me rooting for her from the sidelines, pumping a fist in the air with every whiff of news about a victory from the press bunker during the many rounds of Swiss on Day 1. As a fellow female duelist it's nice to see someone reach that pedestal of success, achieving so much along the way. With that in mind, of course I was happy to see her qualify for the event and top the event, and to see her on the stage with all the other finalists at the end of the event's second day.
To reach the pedestal of such an exclusive event takes true talent, and to pilot an unexpected deck so close to the crown requires intimate knowledge and true skill to execute it at such a high level. After once thinking my days of competition were over, I can almost guarantee I wasn't the only onlooker who thought it might be time to give it another go just because of Robinson's impressive Top 8 escapades this summer.
Only one question remains: could we see a repeat appearance at the World Championships next year, wherever they may be? "It's going to take a lot of work," Robinson responds. "It'll be a fun challenge to see if I can do it twice. Lots of other players have done it; we had competitors this year who were here at the last Worlds in 2019.
"It's definitely possible!"
---
Jessica Robinson's Yu-Gi-Oh! World Championships 2023 Top 8 Rikka Sunavalon Deck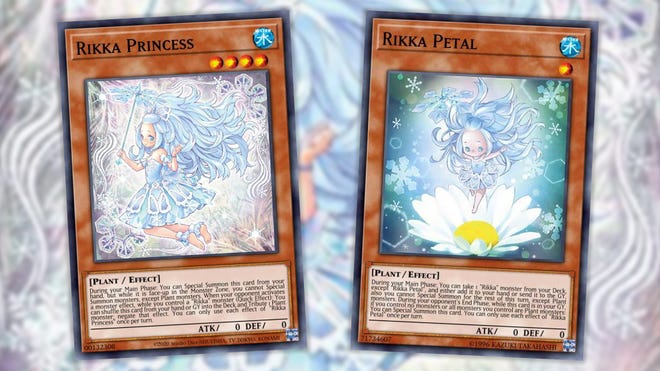 Monster Cards
3x Rikka Princess
1x Primula the Rikka Fairy
1x Therion "King" Regulus
3x Ash Blossom & Joyous Spring
3x Sunseed Genius Loci
1x Snowdrop the Rikka Fairy
1x Lonefire Blossom
1x Sunseed Twin
2x Mudan the Rikka Fairy
3x Rikka Petal
2x Therion "Lily" Borea
3x Droll & Lock Bird
Spell Cards
3x Unexpected Dai
1x One for One
1x Harpie's Feather Duster
1x Called by the Grave
3x Triple Tactics Talent
2x Sunvine Sowing
3x Rikka Glamour
2x Rikka Konkon
1x Therion Discolosseum
Trap Cards
3x Infinite Impermanence
1x Rikka Sheet
Extra Deck
2x Rikka Queen Strenna
1x Sacred Tree Beast, Hyperyton
2x Aromaseraphy Jasmine
1x Sylvan Dancepione
1x Teardrop the Rikka Queen
1x Sunavalon Melias
2x Sunvine Healer
1x Benghalancer the Resurgent
1x Sunvine Thrasher
3x Sunavalon Dryas
Side Deck
1x Traptrix Cularia
1x Naturia Rosewhip
1x Predaplant Spider Orchid
3x Ghost Belle & Haunted Mansion
2x Lightning Storm
1x Raigeki
3x Triple Tactics Thrust
3x Cosmic Cyclone