Dice-flinging dexterity hit Dungeon Fighter's latest edition is not one, but two new games
Rolling with the punches.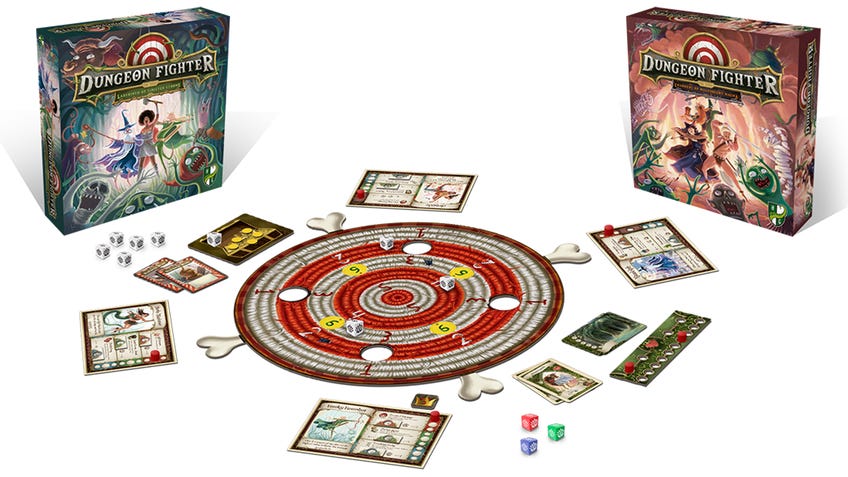 A brand new edition of Dungeon Fighter, the dexterity game about throwing dice to murder monsters, is being released just in time for its 10th anniversary - and, this time, it comes in two different boxes.
A co-op board game set in a fantasy world, Dungeon Fighter sees players taking it in turn to test their dice-throwing abilities as their heroes venture into dungeons to defeat all manner of beasties. Supporting one to six players, Dungeon Fighter challenges players to accurately fling dice across the game board in order to deal damage to the various wicked creatures that dwell in its depths.
With several different heroes to choose from - each with their own abilities - players attempt to roll their dice onto different sections of the target game board. Some challenges even have players launching dice from under one leg or rolling with their eyes closed. As they eliminate each new set of monsters, players gradually venture through the dungeon's rooms until they reach the final boss - which they must defeat in order to win.
The newly-announced edition of Dungeon Fighter will give players the choice between two different standalone versions of the game, each with its own storyline and gimmick.
Dungeon Fighter in the Labyrinth of Sinister Storms has players using bouncy wooden dice, as they attempt to cut their way through various nature-themed situations. Conversely, Dungeon Fighter in the Chambers of Malevolent Magma features a unique target board that players will have to aim at whilst shielding themselves against fiery fiends.
Alongside these two new versions of the game, there have been several changes made to Dungeon Fighter as a whole, including new boards, new dice and new monsters. Heroes now level up by rolling their set of dice - which now feature three different symbols, instead of just the one - to improve their chances of activating special powers.
Players can also now choose between entering two different dungeon rooms whenever they move locations, meaning that routes are no longer linear and players can take other paths during subsequent playthroughs. Monsters come with last-strike rewards for players who are willing to risk failing a more complicated dice-throw, with gold, level-ups and many other goodies up for grabs.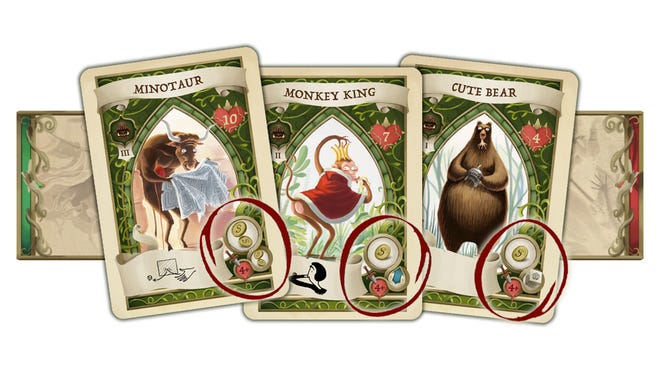 The original Dungeon Fighter was designed by Aureliano Buonfino, Lorenzo Silva - the designer behind Potion Explosion and train game Railroad Ink: Deep Blue Edition - and Lorenzo Tucci Sorrentino, who previously worked together on amusement park-management game, Steam Park.
Horrible Guild is the publisher behind the Dungeon Fighter series. The studio is also responsible for family card game Similio, horror game Alone and legacy game King's Dilemma.
According to the listings for Sinister Storms and Malevolent Magma on BoardGameGeek, both versions of the new Dungeon Fighter are set to be released sometime in 2021 following a Kickstarter campaign launching on September 8th. A price for either box is yet to be announced.