Win a D&D Honor Among Thieves bundle worth £200 to celebrate the home release of the Dungeons & Dragons movie!
Roll with advantage.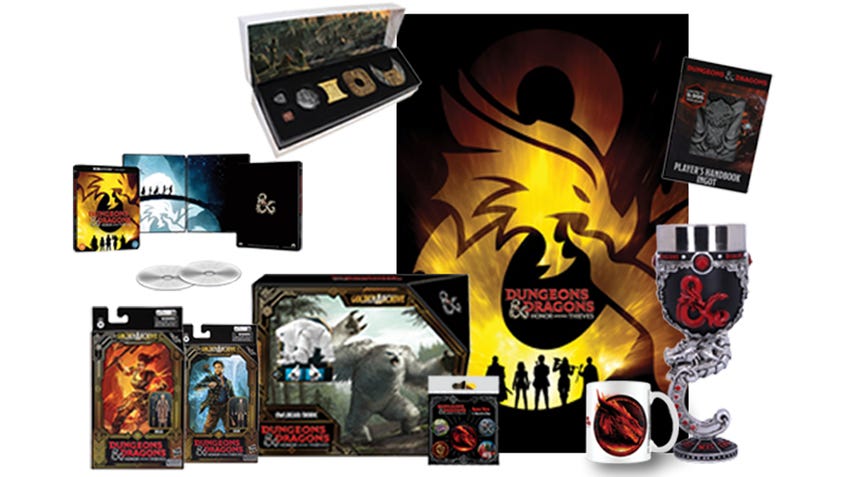 After adventuring onto cinemas screens and seeing a digital release earlier this year, D&D movie Honor Among Thieves makes its way on DVD, Blu-ray, 4K UHD and 4K UHD today, July 31st. To celebrate, we've got a veritable Bag of Holding full of goodies to give away, including a copy of the film and a bundle of merch worth £200!
Set in Dungeons & Dragons' world of the Forgotten Realms, Honor Among Thieves follows a rowdy band of adventurers - including Chris Pine's bard Edgin, Michelle Rodriguez' barbarian Holga, Sophia Lillis' druid Doric and Justice Smith's sorcerer Simon - as they try to avert the villainous plans of Sofina and the Red Wizards of Thay. Along the way, there's plenty of nods to the tabletop RPG for D&D fans to spot, from familiar spells and feats to creatures straight out of the Monster Manual.
Thanks to Paramount, Hasbro, Fanattik, Hasbro Toy, Nemesis, Pyramid and Hasbro Toy, we're offering the chance to win a D&D Honor Among Thieves bundle featuring the following list of official merchandise. (It's so long we need to make it its own bullet point list!)
Film poster
Film mug
Film badge pack
Player manual ingot
Waterdeep coin set
Goblet
Owlbear
Edgin figure
Holga figure
On top of all that, you'll be able to grab a copy of the film in your format of choice: 4K UHD, DVD or Blu-ray.
All you need to do to be in with a shot of winning is to follow the instructions below and answer the question. You can also find the competition and full T&Cs here. You have until next Monday, August 7th to enter. After that, we'll pull a winner and get their prizes on the way! Good luck!
Dicebreaker D&D Honor Among Thieves competition