Noughties wargaming classic Heroscape will still see a return after last year's failed crowdfunding run
Renegade Game Studios picks up the miniatures game's reboot after Age of Annihilation missed its goal last autumn.
Heroscape fans, keep that breath held. Despite reboot Age of Annihilation missing its crowdfunding target last autumn, the beloved miniatures game is still due to make its return after more than a decade.
Age of Annihilation, if you've forgotten, would've marked the return of Heroscape after more than a decade off the table, resurrecting Hasbro's early noughties wargame known for its accessible hex-based terrain - used to build modular battlefields - Lego-like fantasy miniatures and beginner-friendly rules.
Despite the community continuing the series after its 2010 discontinuation in the form of fan-made figures and custom scenarios, Heroscape's official relaunch last October struggled to amass enough interest in Age of Annihilation's $250 boxed set. Its campaign on Hasbro's own HasLab crowdfunding platform collected just over half the 8,000 pre-orders required to raise the $2 million needed to bring it to fruition.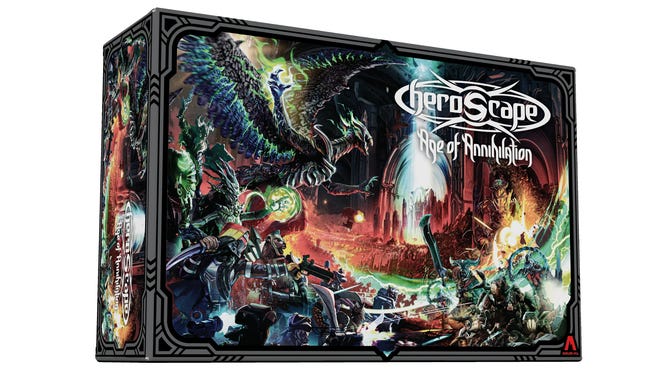 Shortly before the crowdfunder concluded short of its target, Avalon Hill's head of design Chris Nadeau remarked that a failed campaign would "[bring] up a lot of questions internally of, like, what do we wanna do with Heroscape at that point?", before adding that "it would not obviously be released in this format" and would go "back in the quote-unquote 'vault'".
Despite Nadeau's comments, it looks like Heroscape won't be vaulted just yet. Board game publisher Renegade Game Studios announced that it will produce the rebooted Heroscape, taking over responsibility for the revived game as part of a licensing deal with Hasbro.
The publisher, which has announced a slew of new editions and reprints for Hasbro titles in recent months - including Diplomacy, Axis & Allies, Robo Rally and Risk - said that it will help "usher in the long-awaited return of Heroscape for the hobby, mass, and specialty markets". Renegade's announcement did not include direct reference to the Age of Annihilation subtitle.
Renegade said that its Heroscape release would include a mixture of the classic game and brand new content, as well as expansions in the form of faction boxes and terrain packs. The studio added its plans to release brand new models "in a variety of configurations and price points for both new and hardcore Heroscape players".
As well as the game itself, Renegade announced plans to run a Heroscape world championship as part of supported organised play, alongside in-store tournaments.
Heroscape will be released at retail in the future, with a release date and pricing yet to be announced.