Godzilla Jenga brings the iconic movie monster to the classic family board game
Kaiju dig it?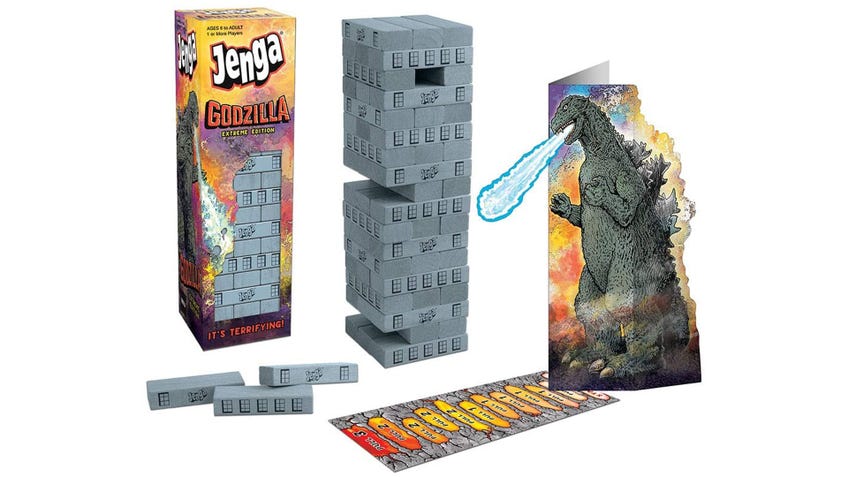 Family board game classic Jenga is getting a new edition featuring iconic movie monster Godzilla.
Jenga: Godzilla Extreme Edition is mostly similar to the original Jenga, as players carefully remove blocks from the tower and place them back on top of the teetering stack. It's Jenga, you know how it works.
What's new in the movie board game crossover is the King of Monsters itself, which gradually stomps towards the already precarious tower along a new 'approach board'. The players roll a die to see how far Godzilla advances, with each step increasing the number of blocks that Godzilla pulls from the stack.
Leaning into the kaiju's movie origins on the silver screen, the 54 concrete-gray Jenga blocks feature windows to make the tower look like a skyscraper ready to be reduced to rubble by Godzilla's atomic breath.
Godzilla itself makes an appearance in the upcoming board game as a 3D tray to help stack up the blocks in a neat tower. The loading tray doubles as a cardboard standee to track Godzilla's progress towards the tower.
Jenga: Godzilla Extreme Edition plays with one or more players in around five to 15 minutes - much like normal Jenga but, y'know, with Godzilla.
The game is out now from The Op - the publisher behind other movie board games such as Harry Potter: Hogwarts Battle and various Star Wars board games, including Dark Side Rising, not to mention endless Monopoly variations. It costs $20 (£16) in the US.