Pathfinder and Starfinder RPGs are headed to augmented reality
Rolling in another reality.
Fantasy RPG Pathfinder and its sci-fi spin-off Starfinder are being brought into augmented reality later this year.
The two RPGs from publisher Paizo - which recently moved Pathfinder's second edition away from its roots in Dungeons & Dragons 3.5 onto the studio's own Open RPG Creative Licence - are headed to Mirrorscape, the upcoming virtual tabletop that allows players to run RPG sessions in augmented reality.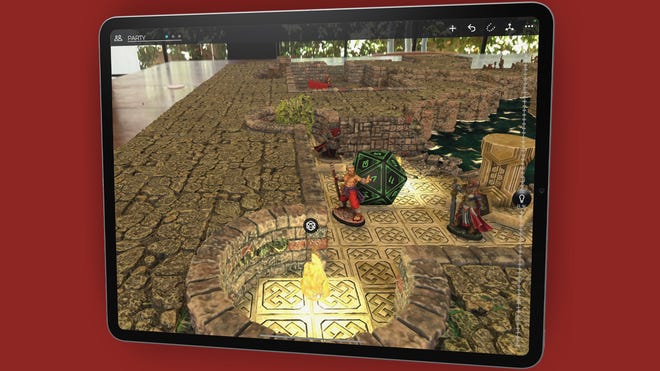 The partnership between Mirrorscape and Paizo will see Pathfinder and Starfinder, as well as other Paizo titles, launch onto Mirrorscape shortly after the AR platform releases its open beta for iOS and Android mobile devices later this summer.
The first images of Pathfinder in Mirrorscape showed the RPG's Beginner Box adventure Menace Under Otari played in AR, recreating the book's 2D map as a 3D environment.
"Bringing Paizo's titles to Mirrorscape allows us to replicate the true-to-life, around-the-table experience that our fans have enjoyed for decades in an astonishing virtual experience," said Paizo publisher Erik Mona. "The team at Mirrorscape has dedicated a tremendous amount of time and effort into keeping the Paizo experience as realistic and original as possible on the platform, and we are thrilled to contribute to the growth of such a unique and exciting development in virtual tabletop gaming."
In comparison with traditional virtual tabletops like Roll20 and complete virtual reality experiences, Mirrorscape's augmented reality offering overlays a virtual gaming setup - including miniatures, terrain and dice - onto real life when viewed through a phone or AR headset, blending together real-world and digital elements. If players move around the 'table', their device keeps track of their location, allowing them to see it from different perspectives.
Mirrorscape co-founder Grant Anderson previously told Dicebreaker that the platform hopes to become "the Apple of VTTs" by offering an easy-to-use, polished experience. Alongside Anderson and fellow co-founder and COO Don Bland, celebrity D&D fan and Critical Role guest star Joe Manganiello serves as creative director on the development team.
The app's planned features include the ability to paint virtual miniatures, add weather effects and offer a third-party marketplace with user-made custom campaigns, maps and more, alongside licensed accessories from companies such as Dwarven Forge, Fat Dragon Games, Reaper Minis and Norse Foundry. Mirrorscape will also be open-licence, allowing any RPG ruleset - including homebrew creations - to be played.