Scythe: Digital Edition is out on mobile now
Factory reset.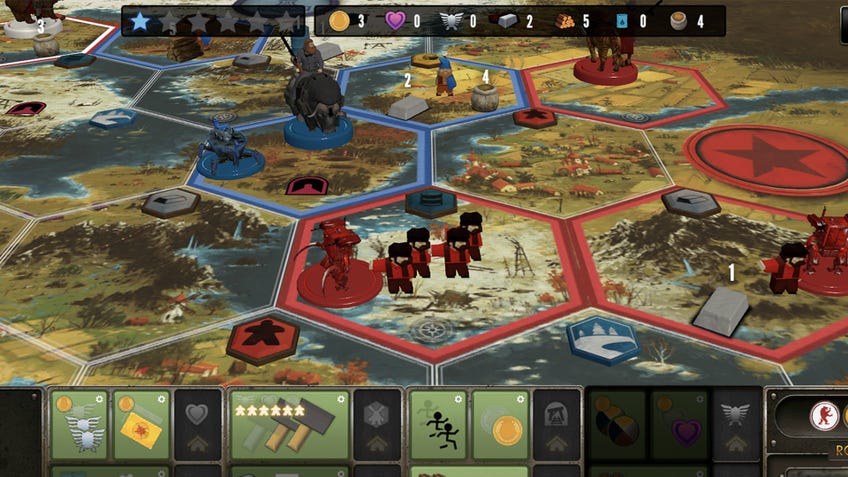 Conduct conquests from a mobile device with the newest release of Scythe: Digital Edition, out now for iOS and Android.
Scythe: Digital Edition sees players competing against one another for the glory of their chosen factions in a dieselpunk world. Like its tabletop counterpart, the digital board game is set in an alternate universe where nations have created mechs and ride enormous beasts. Using these war machines and fearsome mounts, each of Scythe's five factions - or seven, with the Invaders from Afar expansion - must gather as much power, popularity and wealth as possible.
As in the original worker-placement game, players in the digital version of Scythe need to carefully plan out each of their turns if they want to get the most out of them. Depending on whichever player board they're using, players will be able to perform certain actions in sequence each turn. For example, collecting resources before building a mech. Certain actions require the player to have a particular amount of resources or currency, meaning that players will benefit the most from creating strategies in advance.
In the Digital Edition of Scythe, players interact with 3D graphics of the game board and miniatures - selecting where to move their pieces and which actions they want to take that turn. Players can challenge one another online or via local multiplayer, as well as play a solo game mode against AI.
Scythe has one to five players controlling various factions in an alternative 1920s period of European history. Able to choose from the Ruskviet, Saxony, Nordic, Crimean or Polania factions, players gain access to a special ability depending upon which one they decide to play as.
Scythe was designed by Jamey Stegmaier, who also co-founded the game's publisher Stonemaier Games along with Alan Stone. Earlier this year, Stonemaier released a Complete Rulebook for Scythe containing all the information needed to play the core game, as well the various expansions and promo content released over the past four years.
Scythe: Digital Edition is available now on both iOS and Android. It'll set you back $9.99 (£7) on the App Store and $8.99 (£6.99) on Google Play. All versions of Scythe: Digital Edition are capable of crossplay, meaning that players can challenge each other online regardless of which platform they're playing on.