Guess Who-ish co-op card game gem Similo is headed to Middle-earth with a Lord of the Rings edition
One clue to find them all.
Similo is one of those games I'd classify as an overlooked gem. It looks almost too simple - and it is - but there's a definite spark in its entertaining Guess Who-ish deduction that makes it well worth the short time it demands. Luckily, it seems that the series is still going plenty strong, as the co-op card game is now headed to the realm of Middle-earth in a Lord of the Rings spin-off.
For those new to Similo, it's dead simple to pick up. A grid of 12 cards are arranged on the table, with one player acting as a clue-giver to the rest of the group - not unlike a co-op Codenames.
That player must guide the team to find the correct character by playing other cards from their hand. While the player is limited in the guidance they can give, the card they play is turned to signify that it either has something in common with the hidden card, or is different from it somehow - a bit like Guess Who. What that similarity or difference is is up to the rest of the group's interpretation of the illustrated cards. Is the frog similar to the answer because it has four legs? Or because it swims? Perhaps simply because it's green?
Each round, the group must choose to eliminate increasing numbers of cards based on each clue, while trying to avoid getting rid of the secret answer - which results in an instant loss.
That really is about it, but it's a successful formula that creators Horrible Guild have since applied to everything from animals and historical figures to mythical beings and Halloween monsters.
Similo's Lord of the Rings set will feature Tokaido artist Naïade's take on Tolkien's fantasy epic, with familiar faces from Frodo, Gandalf and the rest of the Fellowship appearing alongside slightly deeper cuts from Middle-earth, such as the Mouth of Sauron and Ugluk.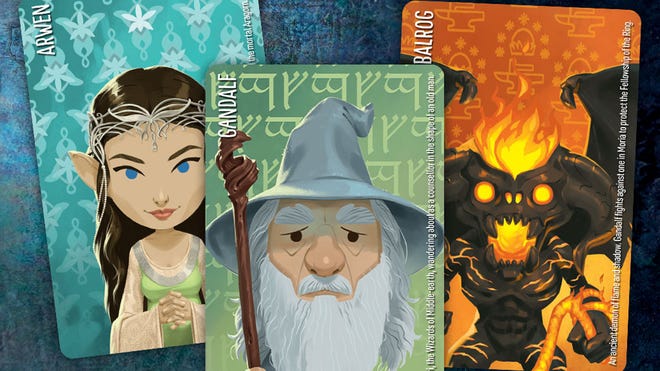 Like all Similo sets to date, the Lord of the Rings pack can be mixed-and-matched with other Similo releases, letting you use one deck as the grid of cards and another for clues.
Similo: The Lord of the Rings will be released at this year's Essen Spiel convention in Germany, taking place from October 5th to 8th.