Cross-country train game Ticket to Ride is discounted in the Amazon Spring sale
Collect cards and claim railway routes to race across America.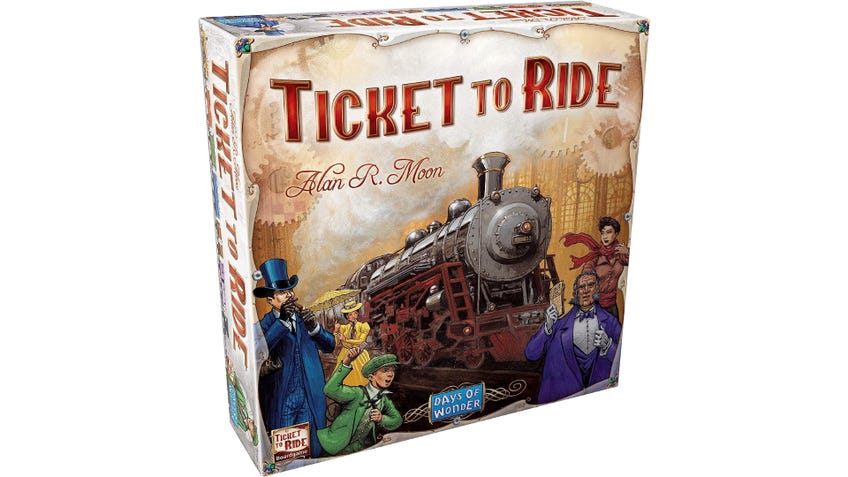 Amazon is having its Spring Sale event right now, with lots of discounts on almost every product range they have, which includes board games and card games!
There are some good discounts on classic games like UNO which can be had for £5, or Scrabble for £11, but there are also some good discounts on bigger games that don't get discounted as often.
One of those games is Ticket To Ride, the classic strategy game from Days of Wonder that puts you in a race to claim railway routes connecting cities through North America. It usually retails for £40/$55, but is discounted in both the US and UK by up to 29%:
Ticket to Ride is one of the best train board games around because it has some of the purest examples of the management of railroads and tracks in a board game. That ease-of-access made it very popular, prompting different versions set on different continents- with the European version receiving a £100 15th Anniversary Edition in 2020.
If you've not played Ticket to Ride before, the original is the best version to get started with, partly because of this current low price but also because it's a great beginner board game.
In the game, players collect and play matching train cards to claim railway routes connecting cities across the continent. The longer routes a player has, the more points they earn. Additional points can be had by those who fulfil their Destination Tickets and to the player who builds the longest continuous railway.
If you want to find some more board game deals, or deals on card games and accessories or tabletop games like Dungeons & Dragons, then have a look at the Amazon Spring sale, and be sure to follow the Jelly Deals Twitter account as well where we're trying our best to cover the best deals each day.