Unmatched Adventures teased in cryptic announcement by board game publisher
Who, or what, is the red-eyed creature?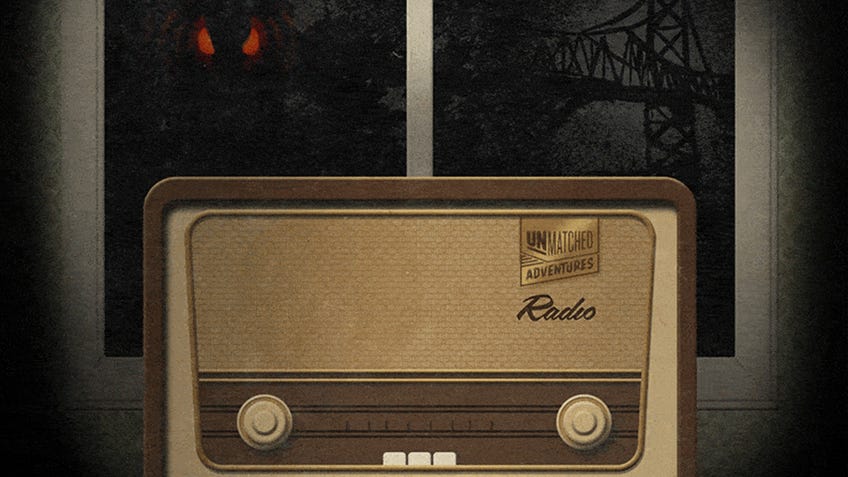 A new entry in the Unmatched series has been teased by Restoration Games, one of the companies behind the board game franchise.
In a Twitter post made yesterday by the official Restoration Games account, something called Unmatched Adventures was teased in a cryptic video announcement. The video, which depicts a cartoon old-timey radio sounding a broadcast, features a voice-over that speaks of a disturbing, red-eyed creature. In an accent reminiscent of a narrator from a War of the Worlds/Twilight Zone-esque sci-fi horror show, the speaker describes an enormous being with red eyes, glistening skin and a rimless, pulsating mouth. Neither the narrator nor the creature are named or given clear identifiers – with the audience left to speculate over what the teaser could mean.
Tweeted alongside the video is a link to a page on the Backerkit website – which is a crowdfunding platform - wherein players can sign up to receive updates on the mysterious Unmatched Adventures project. Besides a name, the teaser video and the Backerkit page, there are no other details available about the project's contents.
👀https://t.co/46zCDBmLMc pic.twitter.com/KADbJudrdG

— Restoration Games (@RestorationGame) February 23, 2023
Unmatched is a series of board games that features playable characters who are both in the public-domain and under license. The series, which began with Unmatched: Battle of Legends – Volume One, sees players taking control of a character with the goal of being the last one standing. Each character in the series has their own miniature and deck of cards that players use to perform various actions on their turn, as well as carry out attacks and defenses with.
On their turn, players can choose to play a scheme card from their hand or move their miniature and/or any ally tokens on the board. If they're within range – whether melee or ranged – players can choose to attack an opposing character, with both involved players selecting their attack/defend cards in secret before simultaneously revealing them. Whichever player laid down the card with the highest number total wins the fight and either gives or shields against damage.
Meehan and Liv play Unmatched: Battle of Legends - Volume One.
Every character's deck in the miniatures game series is unique and designed to invoke that specific character's personality, history and known elements. Characters found in the Unmatched series include Sherlock Holmes, Daredevil, Bloody Mary, King Arthur, Buffy and even the Velociraptors from the Jurassic Park series. The latest entry in the series, Unmatched: Teen Spirit, will feature Marvel comic book characters Ms Marvel, Squirrel Girl and Cloak & Dagger.
The Unmatched series is co-published by the aforementioned Restoration Games – which is also responsible for Downforce and the Return to Dark Tower roleplaying game – and Mondo Games.
The crowdfunding campaign for Unmatched Adventures is set to launch on March 22nd on Backerkit.