Two of Unmatched's most popular sets are about to be discontinued
Grab 'em while you can!
The maker of pop-culture throwdown series Unmatched has confirmed plans to discontinue two of the board game's most popular sets this year.
Restoration Games announced that Unmatched's Cobble & Fog - which stars Victorian literature characters Sherlock Holmes, Dracula, Invisible Man and Jekyll & Hyde - and Robin Hood vs. Bigfoot, which pits the folklore thief against the mythical cryptid, will not be reprinted. Both sets are expected to go out of print later this year.
Robin Hood vs. Bigfoot was one of the earliest Unmatched sets, released in 2019, while Cobble & Fog followed in 2020. The games both rank as among the series' most widely-owned and highest-rated entries on BoardGameGeek, second in ownership only to the series' first set, Battle of Legends, Vol. 1.
Restoration explained that the decision to discontinue the sets was not related to their popularity or sales performance, acknowledging that both sets "enjoyed critical and commercial success, getting second and third printings to meet demand".
Instead, Restoration founder Justin D. Jacobson added that the move was an effort to ensure that more recent releases in the Unmatched series would be afforded a chance in the spotlight.
"The vast majority of our sales are through hobby distribution, i.e., local, brick-and-mortar game stores. They have limited shelf space and can't have something like Unmatched take over like an ever-expanding, insatiable ooze," Jacobson explained in a BoardGameGeek forum post, comparing the process to Disney's 'vaulting' of older movies to encourage sales of newer films.
"These are the sets that have been out the longest, so folks have had plenty of time to get them. [...] We have some other cool sets coming down the line. This decision frees up bandwidth to give those sets their own space."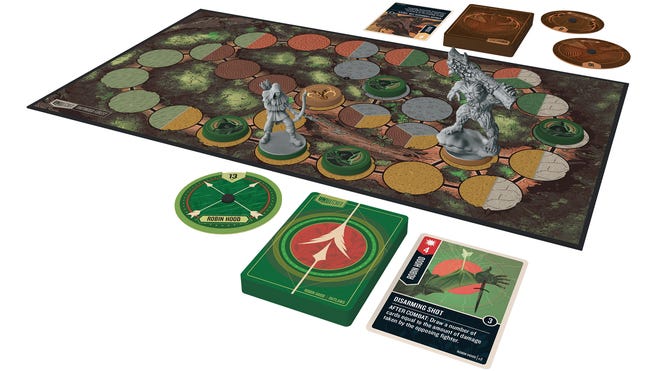 Jacobson said that one or two Unmatched sets would be added to its own vault each year going forward. Other Unmatched sets have previously been discontinued due to the expiration of rights to their licensed characters, including the series' Jurassic Park, Deadpool, Buffy the Vampire Slayer and Bruce Lee packs. The series' Marvel licence - which has been used in four different standalone sets, including the upcoming Teen Spirit, in addition to the Deadpool hero expansion - is due to expire at the end of 2023.
While licensed titles would require a fresh licensing deal, Jacobson confirmed that vaulted Unmatched sets starring public domain characters - such as those in Cobble & Fog and Robin Hood vs. Bigfoot - could make a reappearance in the future, drawing another comparison to Disney: "Like them, we can certainly bring back 'vaulted' sets down the road for special rereleases or other treatments. Think 10th Anniversary edition and the like.
"We don't have plans to reprint, but I can't guarantee we wouldn't reprint in some fashion down the road."
Unmatched continues to grow. To make room for new fighters, Robin Hood vs. Bigfoot and Cobble & Fog
are going "into the vault". We expect them to sell out this year, and we will not reprint. Don't wait to get your copy.

Full press release here: https://t.co/PmpgRG4Meg pic.twitter.com/zYUl48ktCQ

— Restoration Games (@RestorationGame) February 13, 2023
Jacobson added that the game's Battle of Legends releases - including its debut Volume 1 and last year's follow-up collection featuring Yennenga, Achilles, Sun Wukong and Bloody Mary - would remain in print as an "evergreen" entry point for new players.
Restoration has plans for five new Unmatched releases during 2023, with another five sets due for release next year. The sets will include Teen Spirit and fellow Marvel set For King and Country, along with another currently unannounced licensed pack.