Limited-edition Warhammer 40,000 miniature headed exclusively to local game stores in COVID-19 support effort
Time to bleed.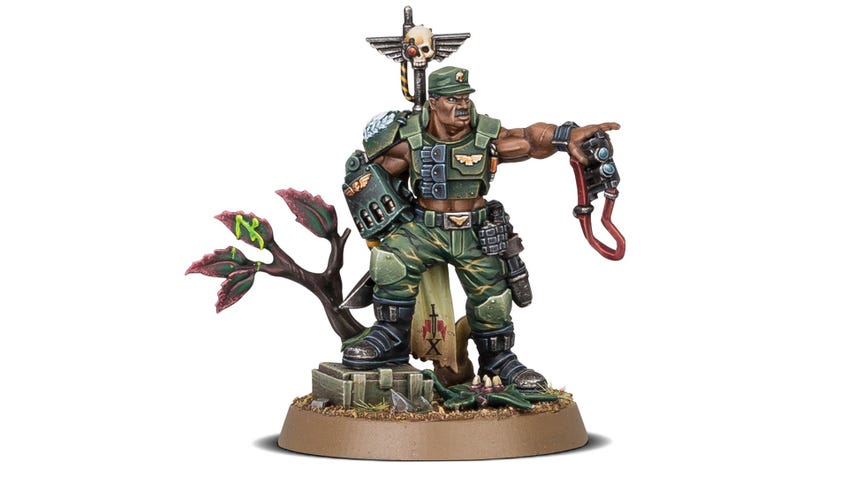 Games Workshop has announced a new limited-edition miniature for Warhammer 40,000 that will only be available at local game stores.
The Catachan Colonel figure will be exclusively available in local independent game stores as part of an effort to support FLGS impacted by the COVID-19 pandemic, Games Workshop indicated, saying that it would be providing retailers with the model free of charge to allow businesses to keep all of the sale price.
The model appears to be an homage to Predator, with Games Workshop's promotional imagery of a painted miniature showing green blood - like that of the invisible film monster - on a leaf, seemingly referencing a shot and iconic line in the '80s Arnie movie. In Warhammer 40,000 lore, Catachan is a deadly jungle planet populated by killer flora and fauna.
Games Workshop recently announced it would begin re-opening some of its own Warhammer outlets, following a global shutdown as part of the coronavirus lockdown.
The company has now confirmed that its online store will begin to re-open, fulfilling existing orders at first before allowing new orders from May 1st. As well as health and safety precautions being taken behind the scenes, Games Workshop said that some products may be limited and delivery would be affected by the reduced operation.
The publisher added that it had "no news" on when new releases for games including Warhammer 40,000 and Warhammer: Age of Sigmar would be launched.