World's first 'immersive board game cafe' offers private GMs and custom soundtracks
The board game equivalent of Disneyland.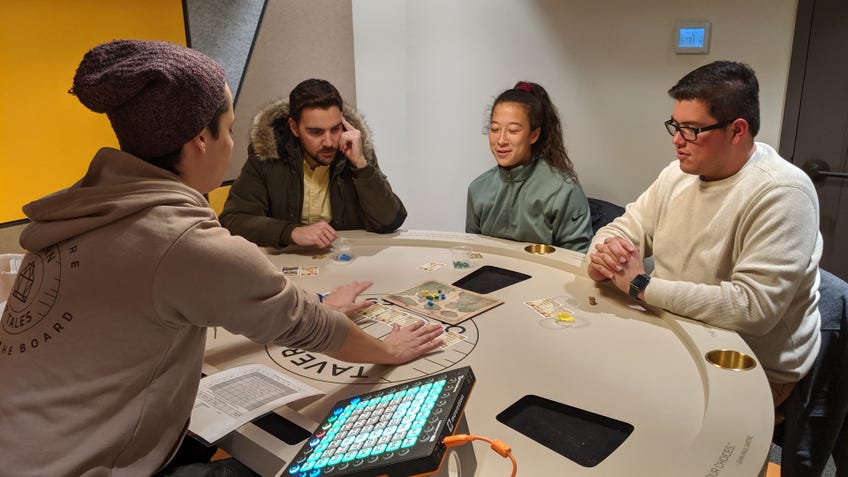 Ever wanted to play a game of Dungeons & Dragons with custom-made soundscapes and mood lighting? Well, the world's first 'immersive board game cafe' opening next month in the US has you covered.
As board game bars and cafes continue to grow in popularity, the ideas behind them continue to get ever more ambitious. However, according to its owners, Boston's Tavern of Tales is the first to push board game immersion quite this far.
Tavern of Tales is a venue containing six private soundproof rooms, each one dedicated to hosting a single game. Visitors won't just receive the usual drinks and snacks that most board game cafes offer; they'll also get to enjoy custom music, sound effects and even narration, all designed to create as much atmosphere as possible. This audio experience has been created through the hiring of local voice actors, musicians and more.
Beyond all the razzmatazz, players will also receive the guidance of a private GM, whose role extends beyond just teaching the game into outright performing as a character appropriate to the game they're hosting.
The experience goes beyond just the board game itself, as the Tavern of Tales is also planning to provide players with the opportunity to earn 'achievements' outside of each game's ruleset. By completing certain challenges based off the games featured in the Tavern, players will be able to progress their 'Quest Log', and eventually earn prizes like free food, drinks and even merchandise.
The current roster of available games includes the aforementioned Mysterium and The Resistance, as well as Eight-Minute Empire, Forbidden Island, Robots on The Line and Tokaido.
The cafe's owner, Nicholas Chen, confirmed to Dicebreaker that Tavern of Tales is planning to incorporate more horror board games into its available playlist, in an effort to make things "more tense and suspenseful" than your standard tabletop experience. The team is even aiming to start designing their own games for the cafe.
"We're also looking into making large-scale board games for 30 to 50 people that utilises our entire bar and all six rooms," Chen added.
Sounds like an ambitious prospect, if there ever was one. It's just a shame that's such a long way from Dicebreaker HQ, so don't expect any team events or videos there anytime soon.