Critical Role prequel novel delves into the backstory of Bells Hells' favourite undead warlock
Critical Role: Bells Hells - What Doesn't Break drops in 2024 and explores Laudna's lost adventures.
A new Critical Role prequel novel titled Bells Hells - What Doesn't Break will publish in June 2024 and give fans of the popular actual play series a peek into the years fan-favourite character Laudna spent on her own before joining the cast of the current season - commonly known as Bells Hells.
Written by award-winning author Cassandra Khaw (Nothing but Blackened Teeth, Breakable Things), Bells Hells - What Doesn't Break is an original book developed to transport fans of Critical Role's ongoing actual play podcast outside of the livestream and podcast format and into a novelised backstory for Laudna, a sorcerer and warlock portrayed by Marisha Ray.
The years Laudna spent after the events that left her suspended between life and death, but before she joined the Bells Hells crew have remained a bit of a mystery. Khaw's book picks up as Laudna leaves behind Whitestone - her home before being hanged and subsequently resurrected - as she travels toward Jrusar with only a curious voice inside her head as company.
Positive and bubbly to a fault, Laudna has broadly accepted her conditions with a smile and contentment few others could summon if their roles were reversed. Part of that tenacity is all Laudna - or the living girl she was before - but a fair bit can be attributed to the guidance and mentorship (and perhaps friendship) of an unnamed voice whispering in ear.
It keeps Laudna safe from the path of would-be heroes who might cut her down due to her undead condition, but it also seems to be leading the young woman towards accepting the magical power in her veins. More, the voice is pushing Laudna towards a hunger for power that cleaves uncomfortably close to her yearning for love, friendship and warmth.
Critical Role: Bells Hells - What Doesn't Break will explore Laudna's grappling with these urges and her journey towards a destiny still playing out on the table. Just because you know the nuanced woman she becomes doesn't mean you know the whole story, and this novel promises some surprising narrative twists as Laudna braves a dangerous path forward, both across Exandria and towards a dangerous deal.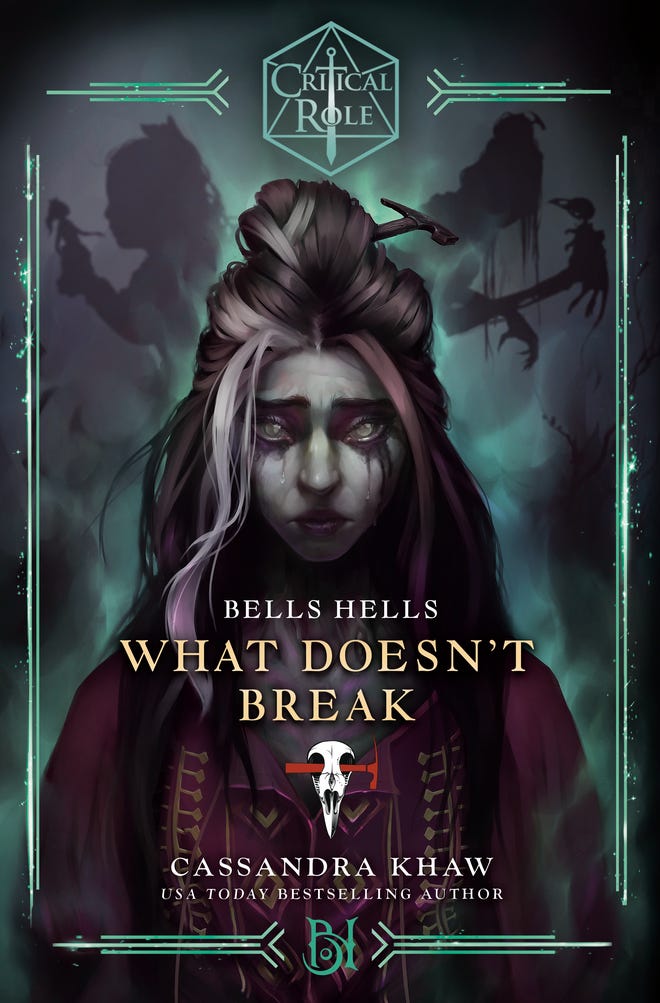 What Doesn't Break is the latest prequel novel to expand on the stories Critical Role tells around the table. Similar to Vox Machina's Kith & Kin and The Mighty Nein's The Nine Eyes of Lucien, Khaw's book further solidifies the once humble stream into a transmedia franchise that include cinema releases, board games, non-Dungeons & Dragons RPGs, graphic novels and several streaming series.
Preorders for Critical Role: Bells Hells - What Doesn't Break are now open on Critical Role's website, ahead of its July 23, 2024 publishing date. Hardcovers are available through most major booksellers and retailers, and both digital ebook and audio editions are also available.