Critical Role's Mighty Nein Origins series to conclude in 2024 with Beauregard and Caduceus' backstories
Co-written by Matthew Mercer and the Critical Role cast.
Critical Role's series of graphic novels exploring the origins of Campaign 2 party The Mighty Nein will come to a close next year with two final entries centred on the pasts of Beauregard Lionett and Caduceus Clay, Dicebreaker can exclusively reveal.
Critical Role: The Mighty Nein Origins began in the summer of 2021 with an illustrated backstory for cleric Jester Lavorre, followed swiftly by a delve into the past of wizard Caleb Widogast. Subsequent entries have expanded on the origin stories of Yasha Nydoorin, Fjord Stone, Nott the Brave and Mollymauk Tealeaf. Jester, Caleb, Yasha and Nott's stories will be collected in an upcoming hardback due out on October 11th, the first of two planned Library Edition volumes.
Beauregard and Caduceus' comics will be co-written by Critical Role DM Matthew Mercer and the characters' respective players - Marisha Ray and Taliesin Jaffe - with Legend of Vox Machina co-writer Mae Catt joining the cast in expanding Beauregard's story and writer-artist Kendra Wells, who illustrated portraits for several of Critical Role's one-off special episodes, adding to Caduceus' background. Dark Horse Comics is the publisher behind the books.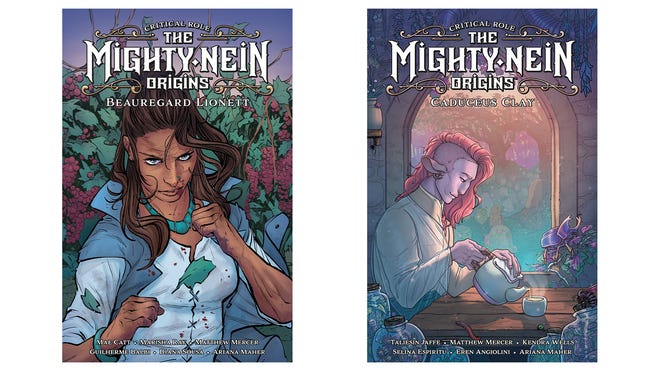 Beauregard's backstory will explore her pre-Mighty Nein time with the order of monks known as the Cobalt Soul as the result of falling into criminal activity - something that leads her own father to arrange a kidnapping as a way of disciplining the wayward Beau.
Caduceus' tale, meanwhile, revolves around the longstanding rituals of the Clay family in the Blooming Grove, and the cleric's efforts to investigate a creeping corruption affecting the sacred sanctuary alongside his sister Clarabelle.
Illustrating the stories will be Guilherme Balbi and Selina Espiritu, with the latter having worked on the origin comics for Caleb Widogast and Fjord Stone. They'll be joined by colourists Diana Sousa and Eren Angiolini, and letterers Ariana Maher and Ariana Maher. Balbi and Sousa will illustrate the cover of Beauregard's instalment, with Gus Allen and Angiolini tackling the front of the Caduceus volume.
The Mighty Nein Origins followed Critical Role: Vox Machina Origins, which similarly served as a prequel to the party seen in Critical Role's debut campaign. Vox Machina's adventures were adapted into an animated Amazon Video series last year, with a second season of Legend of Vox Machina following in February and a third season already greenlit, albeit without a release date.
Mighty Nein is also due to be turned into an animated series, with a brief teaser released earlier this year, although the premiere of its first season is yet to be dated.
Critical Role: The Mighty Nein Origins - Beauregard Lionett will be released next spring, landing in bookshops on April 30th, followed by availability in comic shops from May 1st. Critical Role: The Mighty Nein Origins - Caduceus Clay will similarly hit bookshops a day early on June 4th, before arriving in comic shops on the 5th. Both volumes will cost $17.99.