Get Scythe, Splendor, Carcassonne and £120+ worth of digital board games on PC for under £10
Latest Humble Bundle features more than a dozen Asmodee Digital apps and expansions.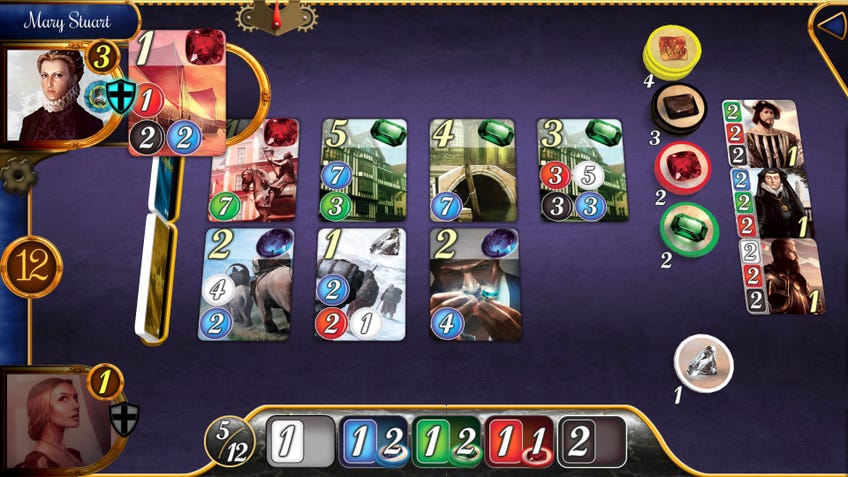 Pick up ten digital board games on PC and more than a dozen expansion packs worth over £120 for less than a tenner as part of the latest Humble Bundle of Asmodee Digital apps - the ideal excuse to play board games online with friends during the current lockdown.
Paying £1 or more will get you strategy board game Small World 2, classic beginner game Carcassonne - Tiles & Tactics, quilt-stitching two-player game Patchwork, bluffing showdown King and Assassins, party board game Love Letter and marble-matching hit Potion Explosion.
Up your amount to the average payment - which at the time of writing is just under £8 - and you'll add set-collection card game Splendor to your library of digital board games, along with two of its expansion packs: The Cities and The Trading Posts. You'll also grab the Winter and Gingerbread Man DLC and Traders & Builders expansion for Carcassonne, plus the Cursed and Be Not Afraid packs for Small World 2. Finally, you'll gain Cold War strategy classic Twilight Struggle - widely considered one of the best board games ever made - and Mysterium, the spooky horror board game in which psychics try to solve the murder of a ghost controlled by one of the players.
The top tier, unlocked for £9.50 or more, adds two more big online board games to your collection. There's Scythe: Digital Edition, which alone usually costs £15 to purchase, and the Definitive Edition of living card game adaptation The Lord of the Rings: Adventure Card Game. Another batch of expansions join the line-up, too, including two expansions for Mysterium - Hidden Signs and Secrets & Lies - the Grand Dames DLC for Small World 2, The Strongholds add-on for Splendor and a trio of popular expansions for Carcassonne: The River, Inns & Cathedrals and The Princess & The Dragon.
According to Humble Bundle, the complete collection of digital board games in the Asmodee Digital Play Together sale are normally worth a combined $158 (£121). All of the games must be redeemed on PC platform Steam.
The Asmodee Digital Play Together Humble Bundle is available for another two weeks. As with all Humble Bundles, a portion of the sale price - decided by the buyer - goes towards a charity, with Humble's current charity of choice being Partners in Health.