Solo RPG bundle raises funds for tabletop-focused suicide prevention organisation
Jasper's Game Day will receive and direct the proceeds from the Itch.io bundle.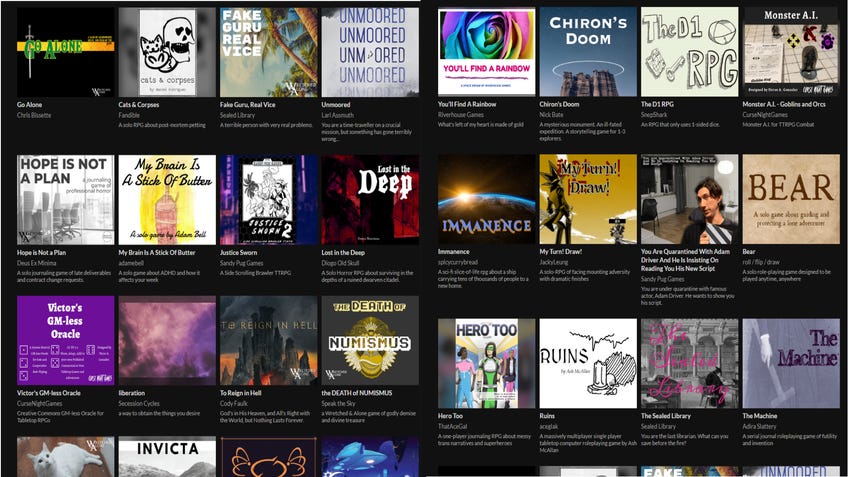 The Solo But Not Alone bundle has collected 87 single-player RPGs on Itch.io that can be purchased for $10 (£7.40), with the proceeds benefitting Jasper's Game Day, a US-based non-profit organisation working towards suicide awareness and prevention.
Game designer collective Peach Garden Games coordinated the bundle, citing a call to use its platform and position within the design community to raise funds for causes bigger than itself. One member, Cat McDonald, spoke to Dicebreaker about how they and Jasper's Game Day joined forces.
"I have a long history of mental illness, and I was coming out of a year that had been particularly challenging in that regard. So I knew I wanted to support a mental health initiative," McDonald said. "I love what [Jasper's Game Day] do, and wish I'd had an organisation like that around to promote awareness and education when I was young and vulnerable."
Fenway Jones, founder of Jasper's Game Day, was just as excited to work with McDonald and the rest of the collective. They explained that 85% of the money raised through sales of the bundle "goes to suicide prevention and Awareness Charities such as the American Association of Suicidology". The majority of the rest is saved for future use, while 5% covers the organisation's administrative costs.
The organisation, named for a close friend of Jones' who was an avid player of tabletop games, uses game spaces as a platform to reach individuals who might otherwise struggle to connect and receive the support they need.
"Jasper's Game Day is a non-profit that I started three years ago after I lost two friends to suicide within a few months of each other," said Jones. "I wanted to use the heartache and pain and sorrow I was feeling to try and help people in the same situation and stopping more people from losing their loved ones as well."
The bundle contains games from designers across the world in a variety of genres and levels of complexity. I Need Your Strongest Potions adapts the popular (and hilarious) YouTube video into an action call to stay hydrated, while Alone in Hyperspace puts you in the shoes of someone delving into a forgotten and relatively ancient part of the early web.
Offering a range of experience was part of the design, McDonald said.
"I think there's wonderful variety and inventiveness in the genre, and games vary from thought exercises you can do while waiting for the bus to one-person campaigns with involved stories. There's something for everyone, and I want to show that off!"
The Solo But Not Alone Bundle will be available through March of this year and offers a spreadsheet of information on its games, including summaries, genre and required materials.
As Jasper's Game Day says, "You are not a critical failure."
UK and Ireland: You can contact Samaritans on 116 123 or email jo@samaritans.org. Call PAPYRUS (Prevention of Young Suicide) on 0800 068 4141 or email pat@papyrus-uk.org.
US: Call the National Suicide Prevention Lifeline on 1-800-273-8255 or text 741-741.
For further information on international suicide helplines visit befrienders.org.