A Pokémon card 'holy grail', one of only a dozen copies in perfect condition, just sold for $175,000
Kangaskhan trophy card awarded to parent-child teams in a 1998 tournament.
One of the rarest Pokémon cards of all time recently sold for $175,000, continuing the ongoing buzz - and staggering money - around collectible cards for the TCG.
The Kangaskhan Family Event trophy card was handed out during a tournament held in Japan during the spring of 1998. The family tournament saw teams made up of a child and their parent compete against other parent-child pairings.
Winning enough matches would earn a team this holographic promo card, which reflected the parent-child format with an image of kangaroo-like Kangaskhan with an infant Kangaskhan in its stomach pouch. The card was illustrated by veteran Pokémon art director Ken Sugimori, known for being the co-designer of the original 151 Pokémon in the series' first generation.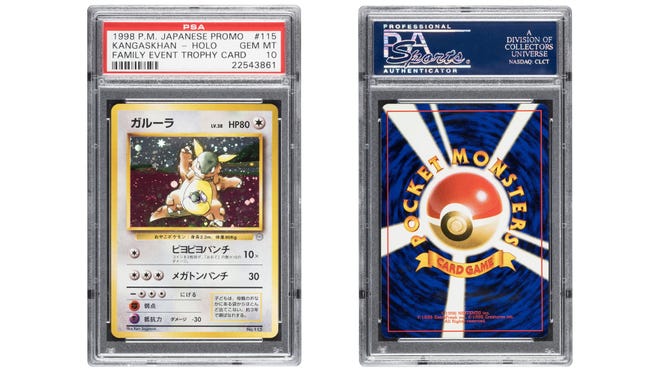 The card's Japanese text translates to two attacks: the single-colourless energy Dizzy Punch, which allows the player to flip two coins and do ten times the number of heads in damage, and Mega Punch, which costs three colourless energy for 30 damage.
The Japanese-language card's limitation to the Family Event tournament makes it one of the rarest Pokémon cards ever made, according to auction house Heritage, which recently sold a flawless copy of the card for $175,000 on July 7th. Pokémon wiki Bulbapedia, meanwhile, describes it as one of the trading card game's "original holy grails", with fellow auctioneer PWCC suggesting the card is the third-rarest Pokémon card in the world. Indicating the card's particular rarity is the inclusion of the Pocket Monsters Trading Card Game logo in place of the standard set symbol.
The card sold last week is one of only 12 rated at a perfect Gem Mint 10 condition by grading specialist PSA, which estimates the typical value of the card to be around $225,000. Only 56 copies have been graded in total. A PSA 10 copy sold for a then-record $150,100 on eBay in October 2020; at the time, it was reportedly only one of three copies to have been sold in the previous 20 years.
Despite the impressive sum, the Kangaskhan card still pales in comparison to the eye-watering money spent on Pokémon's most sought-after cards, with the likes of Shadowless Charizard selling for over $400,000 and Pikachu Illustrator being bought for literal millions in 2021.