Someone's mum found £35,000 worth of old Pokémon cards in a forgotten plastic tub
"I did the math and I was uncomfortable with the result."
While most people hope to discover a rare Pokémon card worth thousands lurking in their childhood collection stashed up in the loft or tucked away in a cupboard, few folks actually have that dream realised. At least one person has recently stumbled upon old cards worth serious money, though.
Jake Shaw's mother Lorraine recently chanced upon dozens of unopened Pokémon and Yu-Gi-Oh! packs stored in a forgotten plastic tub in a corner of the converted bungalow they share together.
"[I said] 'I'll take a look at what these are worth,'" Shaw recalled. "'Okay, okay. Hang on a minute. These things, they retail for like £400 to £500 each on eBay.' I'm like, 'Wait, no.' I'm getting pumped. 'These can't be the real ones.' Scroll… Scroll… 'No, this is what it is. Okay. That's a lot!'"
It's worth noting that Shaw has a bit of an advantage over the average trading card fan, as for multiple years his family used to run a local game shop that hosted Pokémon card tournaments for players in the Somerset town of Yeovil. It was a bundle of organised play promotional packs provided by TCG maker The Pokémon Company for these events that Shaw's mother found stashed away, more than 15 years later.
"We got these for free because we ran Pokemon events in 2007," Shaw explained. "People collect this stuff, and we just forgot. It didn't exist for most of 20 years.
"They used to be worth nothing because we would just hand them out at events. Basically, if you play[ed] in a tournament during those times, you just get one of these packs. You can win them for placing higher, like higher quantities."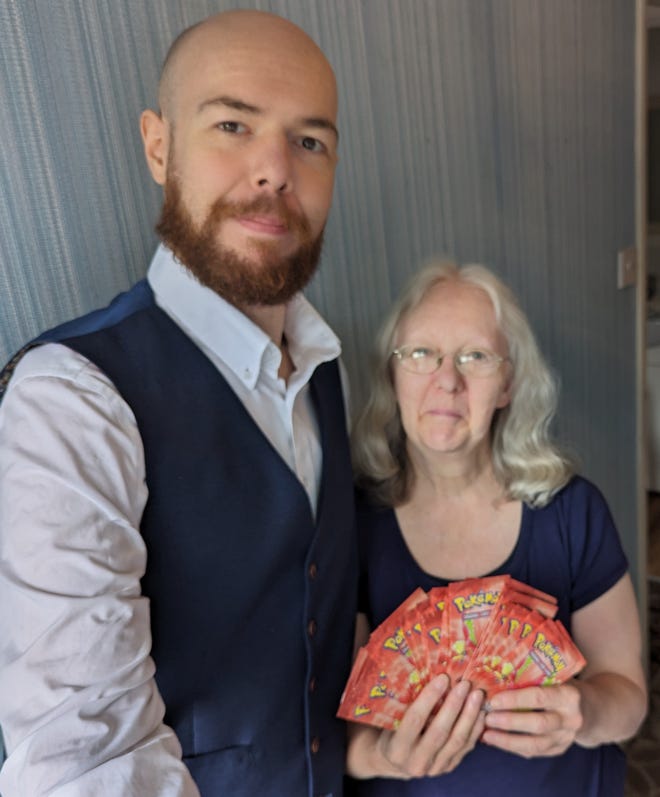 In total, Shaw found 69 of the most valuable POP Series 5 packs for the Pokémon TCG (POP stands for Pokémon Organised Play), over 150 packs of the previous POP Series 4 set - available from mid-2006 to early 2007 - and a mixture of other POP boosters, along with other promotional material and what he described as "notably less valuable" boosters.
"I've always seen the stories of people like, 'Oh, look what I found. I found this sealed old box of Pokémon.' Like, I hate you," he joked. "Now I am that guy. I don't mind being that guy. Turns out, being that guy's quite fun.
"I have told a few of my friends about it and gotten results of 'Awesome!' to 'You son of a bitch!'"
As well as including rare cards for legendary Pokémon Ho-Oh, Lugia and Mew, the POP Series 5 packs are especially notable for a chance to pull the English versions of previously Japanese-only promotional cards for Eevee evolutions Espeon and Umbreon. Alone, the Umbreon and Espeon Gold Star cards found in POP Series 5 packs can be worth up to tens of thousands in good condition, according to card grading specialist PSA.
The Yu-Gi-Oh! boosters included over a dozen each of the TCG's Tournament Packs 7 and 8, similarly offered to players during events held in 2005 and 2006. While not quite as valuable as the Pokémon boosters, the Yu-Gi-Oh! Tournament Packs could include popular cards such as D.D. Warrior, Breaker the Magical Warrior and Harpie's Feather Duster - "The card that has me almost tempted to open a pack or two myself," according to Shaw.
While Shaw acknowledged that individual cards from the packs might be worth "a lot more", and that there are methods that allow the contents of unopened boosters to be identified, he insisted that he would keep the contents unknown to give potential buyers "an even chance at the best things". In total, Shaw believes the collection of unopened booster packs is worth between £35,000 and £40,000.
"I did the math and I was uncomfortable with the result," he says. "I haven't counted up the less valuable [packs] - because there's a similar number of [packs worth] like £70, £80 each. And then there's a handful of the other ones, which are like £50 to £60. And we found promotional things and these promo cards; we ran pre-releases and you just happen to have a stack of the things. I think the ballpark estimate is like £35,000 to £40,000, which is a lot to find in a plastic tub in the corner of a room."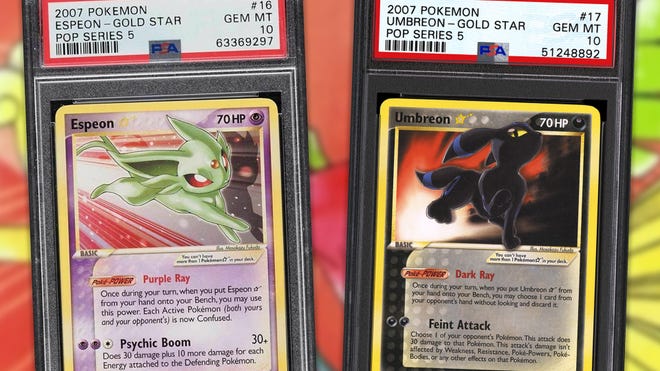 After "a few years not really doing a lot", Shaw's shop closed in 2012 to focus on selling trading cards via eBay. "Turns out local Yu-Gi-Oh! players in a reasonably small town don't really spend as much money as the internet," he said.
After dabbling with online sales in 2018 and 2019, Side Quest Games "properly" moved to become a full-time business in January 2020. Shaw now runs the company as managing director, alongside the rest of his immediate family - including his brother, who Shaw described as a "Chief Pack Opener" who slices open boosters with gardening tools for maximum card-searching efficiency. ("Opening a pack by hand is too slow for the rate we need it. I don't question it," Shaw chuckled.)
"Pretty good timing, because the pandemic created a massive boom, specifically in collecting retro Pokémon stuff," Shaw acknowledged, adding that YouTuber Logan Paul's multi-million-dollar purchase of a Pikachu Illustrator card in 2021 was another "huge" factor in driving wider interest around collectible cards over the last few years.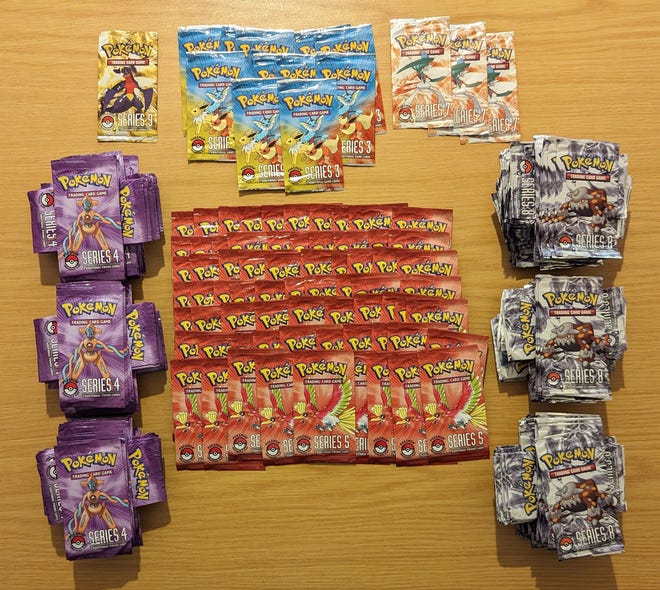 "People worried that Pokémon would be a bubble - and I think some of it was," he said, highlighting the shortage caused by scalpers looking to flip recent releases for a quick profit. "[But] it just keeps growing.
"A lot of people find joy in these sorts of games, even if they can't play them at times. So the pandemic made a huge, huge growth in the industry as a result of people just being kind of depressed in real life and needing something to get into.
"It's gone from strength to strength and, unless something catastrophic happens to the cardboard supply in the world, I think it's gonna keep happening."
Shaw plans to sell several of the valuable Series 5 POP boosters during an eBay auction event taking place around the Pokémon World Championship in August, as well as taking some packs to the upcoming London Card Show at the start of the month. Some will be offered at auction for collectors to bid on, while others will be sold at a fixed price.
"I'd like to make the most out of it," he said. "This is an opportunity to do something with the money afterwards, as well."
As for his mum Lorraine, who rediscovered the valuable packs in the long-forgotten tub? "My mother who found them has not let me forget it," Shaw laughed. "She's used it to vindicate every single hoarder decision she has ever made. 'Found it, can't be mad at me! I'm vindicated for life.'"