Spiel des Jahres 2020 winners: Pictures and The Crew collect 'Game of the Year' awards
Party game and co-op card game follow last year's recipients Just One and Wingspan.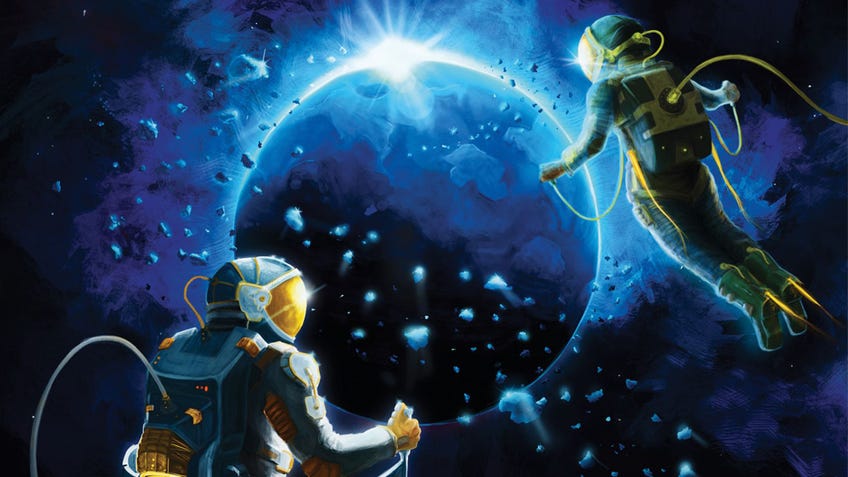 The winner of the 2020 Spiel des Jahres, Germany's top prize for the best board game of the year, along with its 'expert game' award, the Kennerspiel des Jahres, have been announced.
Collecting this year's Spiel des Jahres was Pictures, a party game in which players create images from unusual materials such as sticks, cubes, stones and rope in an attempt to get their teammates to guess the answer.
According to the Spiel des Jahres jury, designers Daniela and Christian Stöhr's game deserved the prestigious 'Game of the Year' prize for its "great a-ha moments" and the "often astonishing" creations made by players, with "the guessing sessions quickly resembl[ing] art exhibitions", achieved with a simple set of rules.
Pictures saw off competition from fellow frontrunners My City, the city-building legacy game by prolific designer Reiner Knizia, and moon-inspired tile-placement game Nova Luna, co-designed by another familiar name in the world of board games - Agricola, Patchwork and A Feast for Odin creator Uwe Rosenberg, alongside Corné van Moorsel.
It joins 2019's party game winner Just One, as well as previous Spiel des Jahres winners such as Ticket to Ride, Catan, Dixit, Codenames, Dominion, Azul, Carcassonne and many more.
Announcing alongside the 2020 winner of the Spiel des Jahres was this year's recipient of the Kennerspiel des Jahres, its counterpart prize for the 'Expert Game of the Year' that typically awards slightly more complex games.
The 2020 Kennerspiel des Jahres went to The Crew, the inventive co-op card game in which players must complete specific objectives by winning hands of cards while limited in their communication with each other. Designer Thomas Sing's mission-based trick-taking game was lauded as "something special" by the jury for challenging players "in an original way".
Also nominated for the Kennerspiel des Jahres was Games of Thrones-esque legacy game The King's Dilemma and roll-and-write kingdom-charting game Cartographers: A Roll Player Tale.
The announcement of this year's Spiel des Jahres and Kennerspiel des Jahres winners followed the announcement of the 2020 Kinderspiel des Jahres last month. Hedgehog Roll was named the 'Children's Game of the Year', besting fellow nominees Foto Fish and Wir sind die Roboter (We Are the Robots). The Kinderspiel des Jahres is judged by a separate panel to the Spiel des Jahres and Kennerspiel des Jahres.