Spiel des Jahres 2023 nominees: Dorfromantik, Fun Facts and Next Station: London shortlisted for Game of the Year award
With a 'Special Prize' for puzzle series Unlock!
This year's Spiel des Jahres nominees have been announced, revealing the board games in the running for the prestigious German 'Game of the Year' prize.
The Spiel des Jahres has awarded board games with what many consider to be board gaming's biggest prize for more than 40 years, with past winners including the likes of The Settlers of Catan, Carcassonne and Codenames. More recent winners include last year's Cascadia and 2021's MicroMacro: Crime City.
The main Spiel des Jahres award typically trends towards family-friendly games suitable for a wide audience, while its sibling Kennerspiel des Jahres prize looks to crown the best 'Connoisseur's Game of the Year' - usually meaning something with slightly more complex rules and gameplay. The Kinderspiel des Jahres, meanwhile, celebrates the best kids' board game of the last 12 months and is determined by a separate jury to the Spiel and Kennerspiel.
This year's frontrunners for the Spiel des Jahres are Michael Palm and Lukas Zach's co-op adaptation of chill video game Dorfromantik, Magic Maze creator Kasper Lapp's party game Fun Facts - in which players attempt to put their companions' hidden answers to questions such as "How long do you take to shower?" in order from highest to lowest - and Next Station: London, designer Matthew Dunstan's puzzley route-drawing flip-and-write about connecting up shapes representing locations around the English capital.
Recommended for the Spiel des Jahres were Jules Messaud's city-building tile game Akropolis - which recently won the top prize at France's As d'Or awards - music card game Hitster, Leo Colovini's zoo escape co-op card game Kuzooka, Ken Gruhl and Jeremy Posner's Exploding Kittens sibling Mantis, Gavin Birnbaum's inventive auction game QE, Bruno Cathala and Theo Rivière's wonderfully compact card game Sea Salt & Paper and a second title from Lapp, memory-bluffing game That's Not a Hat.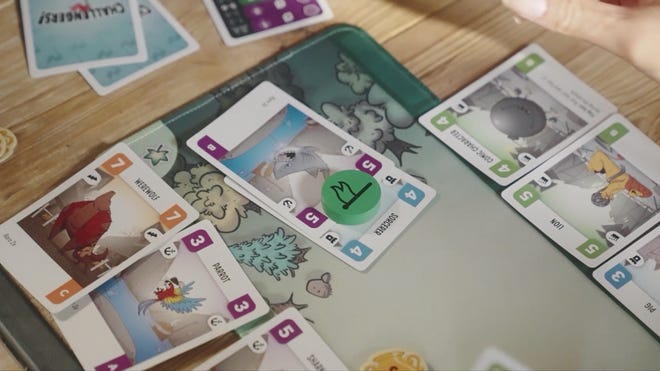 The Kennerspiel des Jahres has also shortlisted three board games. From Pandemic studio Z-Man Games, Challengers is Johannes Krenner and Markus Slawitscheck's quirky capture the flag game that allows players to mash together different pop-culture icons - such as dinosaurs and aliens - via deckbuilding gameplay. The game was recently named best 'Intermediate' game at France's celebrated As d'Or awards.
It will be up against Koota Yamada's Tokyo-set game of Japanese artisans, IKI, and Planet Unknown, a sci-fi-themed tile-placement game by Ryan Lambert and Adam Rehberg that features a rotating lazy susan (or "Lazy S.U.S.A.N.") space station as its centrepiece.
Recommended for this year's Kennerspiel were two more games: Martin Kallenborn and Jochen Scherer's game of sci-fi politicking Council of Shadows and Mindbug, a quirky creature-battling card game from Marvin Hegen, Christian Kudahl, Skaff Elias and Magic: The Gathering creator Richard Garfield.
Finally, the Kinderspiel des Jahres will go to Sara Zarian's ice cream dice game Carla Caramel, Karim Aouidad and Johann Roussel's magical memory game Gigamon, or Antonin Boccara and Yves Hirschfeld's kid-friendly spin on spooky deduction board game Mysterium. Recommended were Sébastien Decad's Douzanimo, the first seven volumes of My First Adventure by Roméo Hennion, Mathilde Malburet, Jean Philippe Sahut and Arnaud Boutle, and Joel Escalante and Rafael Escalante's Slide and Slide!
An additional 'Special Prize' will be given to Unlock! and Unlock! Kids, the series of app-powered escape-room-in-a-box puzzlers. The return of the Sonderpreis is the first such additional award since 2018's recognition of Matt Leacok and Rob Daviau's Pandemic Legacy: Season 2.
This year's winner of the Spiel des Jahres and Kennerspiel des Jahres will be announced on July 16th.