As d'Or winners 2023: Akropolis and Ark Nova take home France's big Game of the Year awards
Challengers! named best 'intermediate' game.
Colourful tile-placement game Akropolis and acclaimed zoo-building title Ark Nova have been named the best board games of the year by French awards As d'Or, announced during this year's Festival des Jeux Cannes.
Akropolis sees players lay down hex tiles to earn victory points from their growing city, with the option to stack tiles on top of each other to fulfil each colour's unique scoring conditions - from forming connected districts to surrounding them with other tiles.
Designer Jules Messaud's sophomore game took home the main As d'Or prize for Game of the Year, typically awarded to family-friendly titles over more complex games. Akropolis saw off competition from two-player bluffing game District Noir, re-released last year in the West, and Magic Maze creator Kasper Lapp's item memory game That's Not a Hat.
[#ASDOR] La cérémonie de l'As d'Or - Jeu de l'Année 2023 s'est terminée au @CannesPalais, animée par Es-tu game?. On vous dévoile les grands gagnants. Bravo à eux ! #FIJ2023 #cérémonie #classement #festivaldesjeux #j2s #jeuxdesociété #Cannes #CotedAzurFrance @Cannes_France pic.twitter.com/x2EVQhvVIK

— FESTIVAL DES JEUX (@fijcannes) February 23, 2023
The separate As d'Or award for best 'Expert' game went instead to Ark Nova, Mathias Wigge's Zoo Tycoon-like board game in which players build enclosures, fill them with animals, hire staff, support conservation projects and more by playing cards, with the aim of earning the most conservation points.
Also nominated in the category for more rules-dense board games were Carnegie - based on the life of Scottish-American industrialist and philanthropist Andrew Carnegie, namesake of Carnegie Hall and Carnegie Libraries - and sci-fi worker-placement game Federation.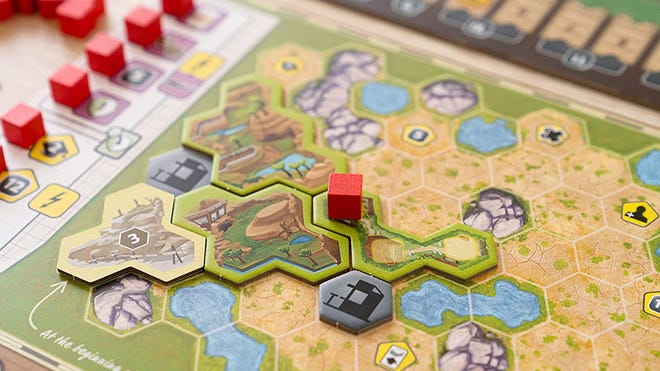 The As d'Or's 'Intermediate' award - falling somewhere between its main Game of the Year prize and Expert nominees in complexity - was won by Challengers!, a deckbuilding take on capture the flag that tasks players with smashing together pop-culture staples from dinosaurs to aliens in order to hold onto a flag.
Runners-up in the Initié category were Spenser Starke's text-message RPG Alice is Missing - which is being adapted into a movie - and Turing Machine, the code-cracking deduction game that features a working analogue computer.
Finally, As d'Or named Flashback: Zombie Kidz - a sort of point-and-click investigation game with cards, set in the universe of the kids' legacy game - as the best children's game of the year, ahead of wizard-and-witch racing game Magic Mountain and loot balancing dexterity game Stomp the Plank.
2023's As d'Or winners join last year's victors 7 Wonders Architects, Dune Imperium and Living Forest, with previous years awarding the likes of MicroMacro: Crime City, The Crew, Oriflamme and Res Arcana.