UK Games Expo 2020 has been cancelled
Following postponement to August as result of coronavirus.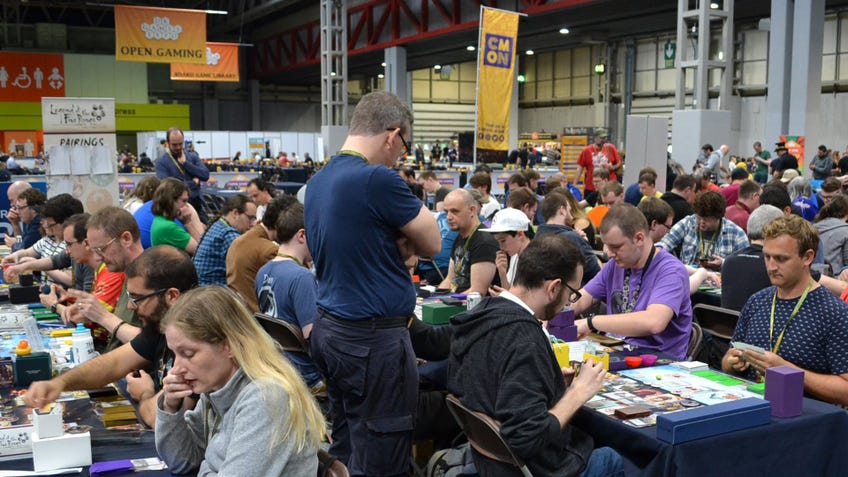 This year's UK Games Expo, the largest tabletop gaming convention in the UK, has been cancelled due to the COVID-19 pandemic.
The summer event, typically held in Birmingham's NEC close to the beginning of June, was previously postponed from its original May 29th to 31st dates until late August in response to government guidance concerning large gatherings during the coronavirus crisis. The delayed show also changed location within the NEC, moving from the venue's three large halls to four smaller rooms due to other events being held during the weekend of the 21st to 23rd August.
UK Games Expo's organisers have now confirmed that the physical convention will no longer be held this year, with the 2020 event cancelled in full. Co-founders Richard Denning and Tony Hyams said in a statement that the decision had been made "after considering national advice and government directives with regard to the COVID-19 virus pandemic, the expected closure of large venues and the probable duration of the infection".
All visitors would be able to be refunded their ticket price in full, UK Games Expo confirmed, with the option to roll forward their 2020 ticket to the 2021 event. Exhibitors will similarly be offered a full refund on stand fees.
UK Games Expo's blog post announcing the cancellation teased that details of a "virtual expo" would be announced, but did not give any further information on what the online event would include or when it might be held.
UK Games Expo's cancellation follows the delay of US convention Origins Game Fair to autumn, with a "virtual convention" taking the place of the mid-June event.
Meanwhile, Essen Spiel - the largest board game convention in the world, with over 200,000 visitors - is still on track to be held this October despite events currently being banned in the local region, the organiser of the German event has said.
The organisers of major US tabletop event Gen Con appear to remain similarly steadfast in the wake of the coronavirus pandemic, saying in early April that the show would be held from July 30th to August 2nd as planned.